Do you know what OfferMosquito is?
OfferMosquito is a browser add-on that is often considered a potentially unwanted application. Some computer security experts even label it as adware. It may be true to some extent, considering that OfferMosquito displays as extensive amount of pop-up coupons and various discount offers whenever you access popular online stores. However, even if you find OfferMosquito annoying you can easily remove it from your browser via browser settings. If you have installed the application accidentally, remove OfferMosquito at once and check for other potentially unwanted programs.
The good thing about this application is that OfferMosquito is compatible only with Mozilla Firefox and Google Chrome. Also, this plug-in does not have any entry in the list of installed programs. Thus, there is no need to remove it via Control Panel, all you have to do is terminate it via your browser settings and then run a full system scan with SpyHunter free scanner in search of other potentially unwanted and perhaps even dangerous applications.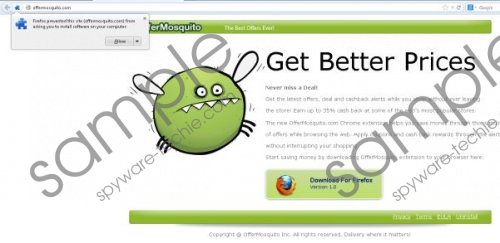 OfferMosquito screenshot
Scroll down for full removal instructions
A full system scan is necessary, because if you do not remember downloading and installing OfferMosquito on your PC, the plug-in might have arrived bundled with freeware applications. Freeware apps lately have become the most common system security threat due to their vulnerability. OfferMosquito itself is not a dangerous computer threat, especially considering the fact that usually users need to download it at offermosquito.com themselves to have the plug-in installed on their browsers.
However, there is always a possibility of third party exploitation. Take note that OfferMosquito displays a lot of coupon pop-ups. With these pop-ups the plug-in is supposed to help you "get the latest offers, deals and cashback alerts while you shop" online, but the thing is that OfferMosquito does not review the pop-up content. It is not covered by its privacy policy. Thus, basically anyone can embed their own content in these pop-ups, and if you click a corrupted link you could be redirected to a malicious website.
Remember that when a pop-up appears on your browser window you click at your own risk, and the question is whether you really should risk it. Remove OfferMosquito from your computer and then scan your PC for files and tracking cookies that should be deleted as well. Almost all browsers employ cookies to personalize search content and display custom advertisements, but by doing so they ensure the security of the data they collect. However, OfferMosquito cannot offer such data security, and that is something you should not tolerate.
Check out the manual OfferMosquito removal instructions below, and do not hesitate to leave me a comment if you have any questions about OfferMosquito, browser plug-ins or adware in general.
Disable and remove OfferMosquito
Mozilla Firefox
Press Ctrl+Shift+A and Add-ons manager tab will open.
Click Extensions. Disable and remove OfferMosquito. Restart browser.
Google Chrome
Press Alt+F and click Tools.
Go to Extensions and remove OfferMosquito from the list.
Restart browser.
In non-techie terms:
OfferMosquito is a browser plug-in that is supposed to help you save money on your purchases online. However, there are some security risks associated with the plug-in, which is why you should remove OfferMosquito from your browser right now.
Aliases: Offer Mosquito.