Do you know what OfferCrowd is?
OfferCrowd is meant to present relevant deals and offers; however, these services are linked to a much more suspicious service. According to the information on offercrowd.com, the offers will be presented when a user fills out online forms. Prize giveaways, surveys, and other kinds of forms may be intrusive and unreliable. In fact, they could be controlled by parties linked to cyber criminals. Needless to say, it is best to delete OfferCrowd, because this application is truly unpredictable. If you do not remove the app, different ads will keep showing up. Simply ignoring the displayed ads is not a good solution, because the program also runs tracking cookies that can spy on you.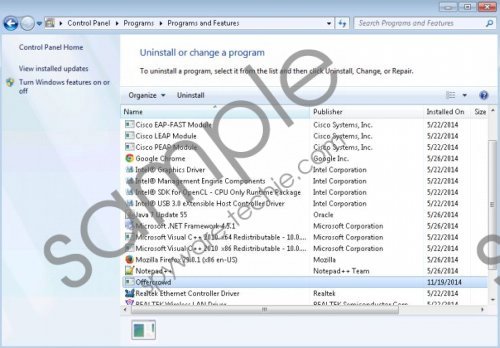 OfferCrowd screenshot
Scroll down for full removal instructions
Most users download OfferCrowd as an addition to other software. OfferCrowd is spread using software bundles, because it is not the kind of application that computer users would seek out and download themselves. Even though it is unlikely that the app will infiltrate your operating system without permission, it could be presented to you in a misleading manner. Needless to say, if you knew that the program installed cookies and displayed random ads, you would remove OfferCrowd right away. Even though it is suggested that the data-tracking cookies are employed to present targeted ads, you cannot be sure about the credibility of the displayed offers. In fact, you may want to remove the advertisement-supported program since it can introduce you to such misleading offers.
If you install OfferCrowd without realizing it, you may have no idea that this is the program that you need to delete in order to stop the flood of offers, surveys, and prize giveaways. Have you terminated the running service OffercrowdSvc.exe? Even though this action may disable OfferCrowd ads for the time being, you have to remove the program to get rid of them for good. If you uninstall the advertisement-supported program from your PC using our removal guides below, you must then scan your operating system for the leftover files. If these leftovers exist and you cannot delete them yourself, you should trust authentic security software that will automatically remove OfferCrowd.
Delete OfferCrowd from Windows
Delete from Windows 8:
Access the Metro UI menu, right-click on the screen, and select All apps to open the Apps menu.
Click Control Panel and then move to Uninstall a program.
Right-click the application you wish to remove from your PC and select Uninstall.
Delete from Windows Vista/Windows 7:
Move to the left of the Taskbar and click the Windows logo to open the Start menu.
Open the Control Panel and click Uninstall a program.
Find the program you wish to remove, right-click it, and select Uninstall.
Delete from Windows XP:
Open the Start menu from the Taskbar at the bottom of the screen and select Control Panel.
Double-click Add or Remove Programs and move to Change or Remove Programs.
Now select the undesirable application and click the Remove button.
In non-techie terms:
If the advertisement-supported program OfferCrowd is active on your operating system, it is most likely that your browsers are flooded with different kinds of offers and suggestions. You have to be careful about the online forms which are presented, because they might be set up by schemers to collect private data. You can try to remove OfferCrowd from your operating system manually. If some leftover files remain active, you must delete them as well. Employ automatic malware removal software if you are not experienced enough to delete leftover files or other threats yourself.