Do you know what OfferBoulevard is?
OfferBoulevard is a potentially unwanted application labeled as adware application. It means that if you have this application installed on your computer, you will constantly see commercial offers and discount pop-ups on popular online shopping websites. Although these commercial offers may seem useful at first, they can significantly slow down your browser, so you are recommended to remove OfferBoulevard from your system as soon as possible. Do not keep it on the system just because it seems harmless. Adware programs can often be the start of serious computer security issues.
This program comes with an official homepage that we all can access via offerblvd.com. The main website says that OfferBoulevard is a dynamic tool that can provide you with relevant deals on a number of popular shopping sites. It says that all deals are provided real-time, so we can assume that OfferBoulevard uses tracking cookies to collect data on your web browsing habits. It is not illegal, but adware applications cannot be trusted in with sensitive data as they are highly vulnerable to a third-party exploitation.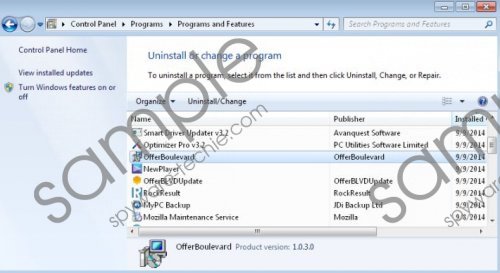 OfferBoulevard screenshot
Scroll down for full removal instructions
What is more, the download button at offerblvd.com does not work. Clicking any of the download buttons on the site will either redirect you to a new blank tab or you will download the main image file from the page. Therefore, we can clearly say that the main distribution method employed by OfferBoulevard is bundled downloads. It means that users download and install the application onto their computers unawares, when they download some freeware app from a third-party file hosting website.
As far as the origins of OfferBoulevard are concerned, our research team says that it comes from the same family as Walletbee and PennyBee adware applications. These adware applications do not add any extensions to your default browser, but they run several processes in Windows Task Manager. For example, OfferBoulevard run OfferBoulevard.exe and OfferBoulevardW.exe processes. As long as these processes are running, the application continues to collect data on what websites you frequent.
Sometimes this data is shared with affiliated third parties, and this is where the program starts. OfferBoulevard could be exploited by cyber criminals, and inadvertently it could redirect you to malware-related websites. Although that is the worst-case scenario, you should take all options into consideration and do what is best for your computer's security. In this situation, it would be for the best to remove OfferBoulevard for good.
Uninstall OfferBoulevard via Control panel and then scan the PC with SpyHunter once more, as you need to make sure that all the adware and unwanted programs are gone. Do invest in a licensed antispyware tool if need be.
Manual OfferBoulevard Removal
Windows 8
Move mouse cursor to the bottom right of your desktop.
Click Settings on Charm bar and select Control Panel.
Open Uninstall a program and remove OfferBoulevard.
Windows Vista & Windows 7
Click Start menu button and open Control panel.
Go to Uninstall a program and remove OfferBoulevard.
Windows XP
Open Start menu and navigate to Control Panel.
Double-click Add or remove programs and uninstall OfferBoulevard.
In non-techie terms:
OfferBoulevard will display a lot of annoying pop-ups, so you need to remove this program from your computer right now. There is a high chance that there are more unwanted applications on your computer, so you can try out the secondary instructions below this description for unwanted software removal.