Do you know what Offer Powered By is?
Offer Powered By is the phrase that you will find on certain pop-up advertisements and web banners displayed by adware programs. The adware server distributing Offer Powered By pop-ups is known as offers.bycontext.com, and we recommend that you ignore all those Offer Powered By advertisements because some of them may take you to unreliable websites.
Offer Powered By advertisements are displayed by numerous adware programs, including ViewPassword, Buzz-It, and Remarkit, to mention just a few. Usually adware programs spread via bundled installers; hence, it is highly advisable to pay close attention to the installation process. Every time you launch the setup file of some program, you should review the license agreement and decline the installation of unknown or unreliable programs; otherwise, you may suffer sad consequences.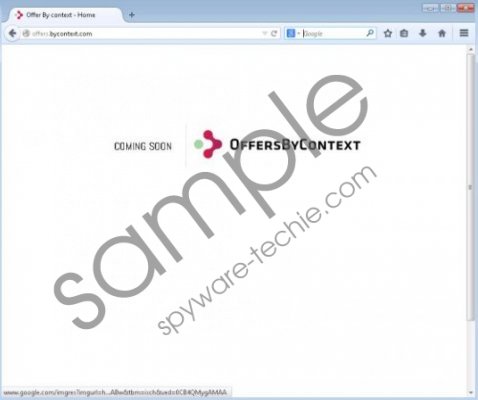 Offer Powered By screenshot
Scroll down for full removal instructions
The content of the advertisements labeled 'Offer Powered By' may vary depending on the intentions of third-parties. Third-parties sponsor so-called adware programs, and, usually, the developers of adware do not accept responsibility for the privacy terms and actions of third-parties. It means that you use the adware program, i.e. click on Offer Powered By pop-ups, at your own risk, and should beware of deceptive websites.
The adware program displaying Offer Powered By pop-ups may promote phishing websites; you may be invited to scan the computer, update software, take part in a survey, etc, and it may turn out that the website is aimed at deceiving you. If you do care about your online privacy, you should download updates from their official sources and ignore suspect software distributors. It is worth paying attention to disclaimers and privacy policies, where you may find that the software distributor is not authorized by the developers of updates for some program.
We recommend that you remove the program displaying Offer Powered By pop-ups because the program may be monitoring your online behavior. Like most adware programs, it may record your clicks, impressions, search terms, browsing history, and other non-personally identifiable information, which is collected to determine your browsing patterns and display new advertisements relevant to you.
If you want to have Offer Powered By pop-ups removed as soon as possible, you should take action right now. Our team recommends using SpyHunter for this real-time security program can easily remove adware programs, browser hijackers, Trojan horses, fake security programs, and many other threats.
In case you do not trust automatic spyware and malware removal programs, you should use the below given instructions.
How to get rid of Offer Powered By
Windows Vista and Windows 7
Click Start.
Select Control Panel.
Click Uninstall a program.
Remove the unwanted adware program.
Windows XP
Open the Start menu.
Click Control Panel.
Select Add or Remove Programs.
Uninstall the unwanted program.
Windows 8
Move the mouse to the bottom-left corner of the screen.
Right-click and select Control Panel.
Click Uninstall a program.
Remove the unwanted program.
In non-techie terms:
If you want to rid your browsers of Offer Powered By pop-ups, use the below given instructions on how to install a spyware and malware prevention program. If you have any questions, feel free to leave a comment below.