Do you know what Oasis Space is?
Oasis Space is a completely misleading name for an application that claims to help you navigate through the web – whatever that is supposed to mean. While you cannot really decide or understand what this application actually does even if you carefully read all the information on its official website, we can tell you this: Oasis Space is a simple ad-supported program. This adware can do nothing else apart from displaying annoying advertisements on your computer screen whenever you go surfing the web. However, these ads will not only "break the waves" and ruin your surfing experience, they can also put you in danger if you click on them and get taken to an unsafe website. That is a possibility when it comes to this adware application. If you delete Oasis Space, you can lower your exposure to schemers and harmful websites, but it is quite likely that this adware is only one of the malware threats on your computer. Please continue reading our report if you want to find out more about the risks and how you can step up against them.
Oasis Space is a "mysterious" application and you will only have a vague idea about what it really is even after going through its website at oasisspace.net. Let us help you figure it out. The truth of the matter is that this program does one thing effectively: It ruins the visibility of your screen with third-party advertisements and commercials. Your routine browsing can be severely damaged by these ads, but it is not the biggest problem. It is also possible that you click on an ad that is not reliable and you end up on a website that is run by criminals. That is how a lot of people get their computers infected or even get scammed out of their money. These criminals are highly sophisticated when it comes to tricking you. They operate false e-commerce sites where you cannot actually buy anything, but, instead, you might disclose some important personal details to them that can be misused to commit all kinds of frauds. Removing Oasis Space can help you stay away from such potential scenarios, but you still need to be careful what kind of websites you visit and what kind of ads you click on.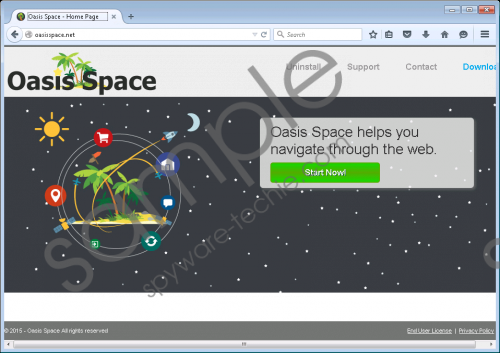 Oasis Space screenshot
Scroll down for full removal instructions
No matter that this adware has its own quasi-promotional official website, because you cannot actually download it from there. It leaves the publisher no other option really, but to distribute it in shady freeware bundles. These software packages, however, may contain malware infections, including adware apps, potentially unwanted programs, and browser hijackers as well. Imagine installing such a "nice" bundle. Do you think deleting only Oasis Space would solve the security issues emerging from the multiple attacks these infections might start once they activate? That is why it is advisable to protect your PC with a powerful malware removal program.
If you want to manually get rid of Oasis Space, you can do it quite easily. This adware can be uninstalled via Control Panel. If you are new to that process, please follow the steps described below in our instructions. Remember that you can avoid being infected with malware most of the time if you are careful with the choice of websites you visit and the links, ads you click on. Also, whenever you install software, make sure you opt out of the unwanted components while you can.
Oasis Space Removal from Windows
Windows XP
Access the Start menu and select Control Panel.
Open Add or Remove Programs.
Select the application and click Remove.
Windows Vista & Windows 7
Press Win+R and enter Control Panel. Click OK.
Select Uninstall a program.
Click on the program and click Uninstall.
Windows 8 & Windows 8.1
Tap Win+W and type in control panel. Hit Enter.
Open Uninstall a program.
Select the program.
Click Uninstall.
Windows 10
Press Win+Q and type in control panel. Press Enter.
Open Uninstall a program.
Click on the program.
Click Uninstall.
In non-techie terms:
Oasis Space is a totally useless application that may actually introduce you to unreliable third-party content through the commercial advertisements it keeps showing on your computer screen. This adware is only good for one thing: To generate revenue for its creators. It may also bring other infections on-board; therefore, you need to act as soon as possible in order to nip it in the bud. We recommend that you remove Oasis Space and all other related threats. The best solution to do that is to use an automated antimalware application that will find and fix all existing issues on your computer.