Do you know what Nvstech Toolbar is?
Nvstech Toolbar is a browser add-on which promotes a blog called nvstech.weebly.com, and which is based on Conduit Platform. If you are familiar with Conduit toolbars, you may know that that they promote Conduit Search, which may be set as the home page and the default search provider after the installation of the toolbar. In order to prevent changes on the computer, you should always pay close attention to the information that you are provided with. If you already have Nvstech Toolbar on your Internet Explorer, Google Chrome, or Mozilla Firefox, we recommend that you remove it from the PC, especially if you have installed the application by accident.
Nvstech Toolbar is available at nvstech.ourtoolbar.com; however, it is not the only way in which this toolbar can be acquired. The browser extension can be bundled with legitimate programs, such as Turbo C++, which is available at softpedia.com.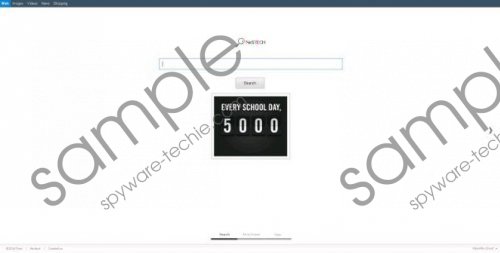 Nvstech Toolbar screenshot
Scroll down for full removal instructions
Nvstech Toolbar provides the user with a wide range of options. It is possible to access eBay, Facebook, weather forecasts, online games, and other websites in one click. The toolbar is also powered by an online radio player and an e-mail notifier. If you are not going to use these options, do not keep the toolbar on the browsers. The toolbar is capable of monitoring your online behavior, that is, it tracks your search terms, clicks, and other non-personally identifiable information. The owners of the toolbar are likely to be interested in how you interact with the toolbar. It means that they monitor how often you access nvstech.weebly.com, what search terms you enter in the search box of the toolbar, and what websites you access. If you are not interested in C++ and computing, simply remove Nvstech Toolbar from the PC.
Do not forget that it is necessary to restore the settings of the browsers. The sooner you reset the browsers, the better, because the search engine search.conduit.com also monitors your online actions. Additionally, it provides you with display advertisements, which are generated on the start-up page. We recommend that you avoid those advertisements even though you find that the service or item that is being promoted is familiar to you. You may be taken to an insecure website; hence, you should do everything you can to protect your own privacy.
In order to remove Nvstech Toolbar from the toolbar, you should implement a spyware removal. A powerful anti-spyware program should be able to eliminate the toolbar and shield the operating system from various computer threats. If you do not have a reliable computer security application, it is time to get one because you want to be sure that you are safe on the Internet.
In case you are determined to remove Nvstech Toolbar from the PC manually, follow the instructions provided below, but do not forget to scan the system afterwards.
How to remove Nvstech Toolbar
Windows Vista and Windows 7
Open the Start menu and click Control Panel.
Select Uninstall a program and uninstall Nvstech Toolbar.
Windows 8
Press Win+R and type in control panel. Click OK to confirm.
Select Uninstall a program and remove the unwanted application.
Windows XP
Open the Start menu and click Control panel.
Click Add or Remove Programs and uninstall the unwanted toolbar.
Remove Nvstech Toolbar from the browsers
Internet Explorer
Press Alt+T and click Internet Options.
On the General tab, change the home page and click OK.
Press Alt+T and now select Manage Add-ons.
In the Toolbars and Extensions section, remove the unwanted extension.
Click Search Providers, and set a new search provider.
Mozilla Firefox
Press Ctrl+Shift+A and click Extensions.
Remove the unwanted browser add-on.
Press Alt+T and click Options.
Open the General tab and change the home page.
Click OK.
Click the search engine icon on the left side of the search box and select a new search engine.
Google Chrome
Press Alt+F and point to Tools.
Click Extensions.
Remove unwanted add-ons.
Click Settings.
Under On startup, click on the last option and select Set pages.
Under Search, click Manage search engines and select a new default search engine.
In non-techie terms:
Nvstech Toolbar is a browser extension which you should remove from the PC because it is based on Conduit. The toolbar can change the settings of the browsers and provide you with different advertisements.
Aliases: NvstechToolbar.