Do you know what Nt.Searchpassage.com is?
Nt.Searchpassage.com is a search engine that is closely related to the extension called SearchPassage or SearchPassage NewTab. After testing it in our internal lab, our researchers classified it as a browser hijacker. The extension is compatible with Google Chrome and Mozilla Firefox. Also, it can hijack your homepage, search engine or new tab page. Moreover, the software might be distributed to malicious web pages, and users could install it without realizing that they did. If you are among such users, you probably want to get rid of the browser hijacker as soon as possible. Fortunately, we are here to help you remove this questionable software from your computer.
Before you rush to erase the browser hijacker, we would like to share with the information that we managed to gather about it. For instance, it was confirmed that it is the extension that changes your default preferences and sets Nt.Searchpassage.com as your homepage, search engine, and new tab page. SearchPassage NewTab should be noticed by Mozilla Firefox users, while SearchPassage could appear on the Google Chrome browsers.
The extension could be distributed through other channels on the Internet as well. For example, it might be spread via unreliable file-sharing websites that offer freeware installers. Usually, these installers are bundled with other questionable software, such as adware, potentially unwanted programs, browser hijackers, etc. Not every user notices that something else is offered for the installation on the setup wizard. If you do not unmark suggested programs, they are installed on your computer. The best way to avoid such situations is either download installer from reliable sources or review every detail on the setup wizard. On the other hand, if you are willing to install an antimalware tool, it might be an easier choice because it can warn you about malicious programs.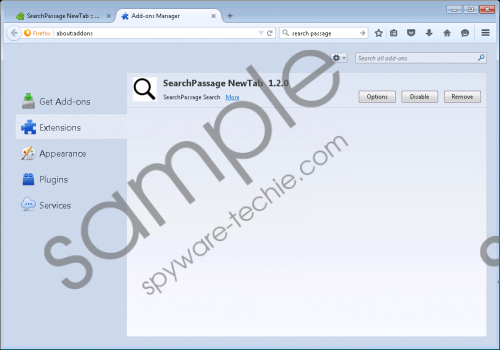 Nt.Searchpassage.com screenshot
Scroll down for full removal instructions
Another source of the application is the software's website (Searchpassage.com). If you click the download button, your browser should show you a warning. The notification says that the extension can "Read and change all your data on the websites you visit, Communicate with cooperating websites, Change your home page to: Nt.Searchpassage.com, change your search engine to: Nt.Searchpassage.com, Change your start page to: Nt.Searchpassage.com, detect your physical location." We know that the browser hijacker might show you third-party pop-ups and ads. It is stated in the software's End User License Agreement. Thus, the ability to "read and change all your data on the websites you visit" might mean that the browser hijacker could track advertisements on web pages you visit and replace them with the unreliable ads that belong to its third-party partners.
If you tried using Nt.Searchpassage.com, you might have been confused about the outcome. The search engine uses yahoo.com to gather and display results, so it might look like you are actually using Yahoo. However, the results might be modified by the browser hijacker, and you would receive advertising that should not be among the results. Users should be aware that third-party ads could lead them to web pages that might gather their sensitive data or contain malware. If you like yahoo.com, you should use it instead of Nt.Searchpassage.com.
For you to be able to change your browser preferences, it is necessary to delete the browser hijacker. One way to get rid of the extension is to remove it through the Mozilla Firefox add-ons manager or Google Chrome settings menu. If you do not have any experience in deleting extensions, you should take a look at the instructions below and learn how to remove the browser hijacker. Also, you can download a trustworthy security tool and erase the application with it. An antimalware tool would find the application's files and delete them.
Remove Nt.Searchpassage.com from browsers
Mozilla Firefox
Press CTRL+SHIFT+A.
Choose Extensions.
Select SearchPassage NewTab and press Remove.
Google Chrome
Press ALT+F and select Settings.
Click More tools and choose Extensions.
Find SearchPassage.
Press the trash bin button near it.
Select Remove.
In non-techie terms:
Nt.Searchpassage.com is a suspicious search engine that travels with a questionable extension known as SearchPassage or SearchPassage NewTab. The search engine might show you modified results that could have links to malicious third-party web pages. As for the extension, its End User License Agreement states that it can integrate third-party advertising, so you might receive more annoying ads and pop-ups. If you want to avoid such content, you should consider removing the software. It can be eliminated with the instructions above or with a security tool.