Do you know what NSA Virus is?
NSA Virus is a ransomware application that has been designed to block your desktop access by displaying a fraudulent notification from the National Security Agency. This infection obviously affects users in the United States of America, but even if you live out of the USA, you can become infected with the malware as well. Therefore, you need to avoid clicking on links to unfamiliar websites, or on pop-up messages that do not look reliable. In case this program has entered your computer, you need to remove NSA Virus immediately; otherwise your desktop will remain blocked.
Considering that NSA Virus comes from Ukash Virus group, it is closely related to Internet Service Provider Virus, FBI MoneyPak Virus, FBI Virus and other similar infections. All of these malicious programs are aiming to steal your money by making you think that you have done something irreversible. In NSA Virus case, this ransomware application accuses you of storing and distributing child pornography. It even displays your IP address; your location and your computer's name on its interface, making the entire situation seem very believable. What is more, it displays small screen captures from child pornography videos as well.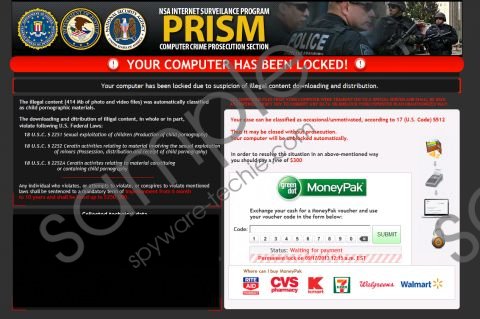 NSA Virus screenshot
Scroll down for full removal instructions
NSA Virus can arrive at your system via Trojan infections, although lately ransomware applications have been noticed to make use of rootkits for their distribution as well. No matter which way is utilized to get into your system, the result is always the same – your desktop is blocked with the following notification:
Your computer has been locked due to suspicion of illegal content downloading and distribution.
ALL SUSPICIOUS FILES FROM YOUR COMPUTER WERE TRANSMITTED TO A SPECIAL SERVER AND SHALL BE USED AS EVIDENCES. DON'T TRY TO CORRUPT ANY DATA OR UNBLOCK YOUR COMPUTER IN AN UNAUTHORIZED WAY.

Your case can be classified as occasional/unmotivated, according to 17 (U.S. Code) §512
Thus it may be closed without prosecution.
Your computer will be unblocked automatically.

In order to resolve the situation in an above-mentioned way you should pay a fine of $300
The program expects you to transfer the fee via greendot MoneyPak alternative payment system. It is possible to get vouchers for by cash in such convenience store chains as Kmart, 7 Eleven, Walmart, CVS pharmacy and so on, but the problem is that all these claims that your computer will be unlocked once you transfer the fine are too far-fetched to be true. Since NSA Virus only wants your money, it will receive the payment, but your computer will remain locked.
Not to mention that all the criminal accusations are not true, and the infection has nothing in common with the law enforcement authorities. In fact, the people who created this infection are cyber criminals themselves! Therefore, you need to unlock your computer and then acquire a powerful computer security application that will remove NSA Virus and other malicious programs from your computer, at the same time protecting the system from similar threats.
How to restore desktop access
Windows 8
Press Windows key and Metro GUI will appear.
Click Internet Explorer tile.
Enter http://www.spyware-techie.com/download-sph into the address bar and press Enter.
Click Run on the download dialog box.
Install SpyHunter and scan your PC.
Windows Vista & Windows 7
Reboot the PC and tap F8 continuously until Advanced Boot Options menu appears.
Select Safe Mode with Networking and press Enter.
Access http://www.spyware-techie.com/download-sph and download SpyHunter.
Install the program and run a full system scan.
Windows XP
Follow the steps 1 and 2 above.
Click Yes on the confirmation dialog box.
Download SpyHunter.
Open Start menu and launch Run.
Enter "msconfig" and click OK.
Open Startup tab on System Configuration Utility.
Click Disable all and press OK.
Reboot the PC in Normal Mode.
Install SpyHunter and perform a full system scan.
You can always leave a comment below if you have any questions about NSA Virus removal.
In non-techie terms:
NSA Virus is a computer threat that wants your money. It accuses you of various false crimes and tries to push you into paying illegal files. Remove NSA Virus from your computer and make sure your PC is protected from other infections.
Aliases: NSAVirus.