Do you know what Npph Ransomware is?
Npph Ransomware is a malicious infection that will not allow you to access your files unless you pay a release fee. This release fee is the ransom that you are supposed to transfer to the criminals behind this infection. Needless to say, you should not give your money away because there is no guarantee that these criminals would issue the decryption key. Instead, please remove Npph Ransomware from your computer and make sure you invest in a powerful security tool that will protect your system from various threats in the future.
Of course, acquiring a security tool alone isn't enough to protect your system from various threats and malicious infections. Whether you are on a private desktop or on a work computer, you have to learn more about cybersecurity, so that you could prevent malware from entering your system. The point is that antispyware programs may not be always able to stop ransomware from entering your PC if you allow them to. Hence, it is necessary to learn about ransomware distribution practices, so that you could stop them yourself.
Npph Ransomware happens to be part of the STOP Ransomware family, and so it will employ the same distribution methods as other applications from this group. The previously released malware infections from the same family include such apps as Pezi Ransomware, Usam Ransomware, Homer Ransomware, Kuus Ransomware, and many others. As you can see, the names for these programs are pretty random, and there are so many of them it seems they are released off the conveyor belt. It wouldn't be too far from the truth, actually. These programs are clearly based on the same template, and they even share the same text for their ransom note.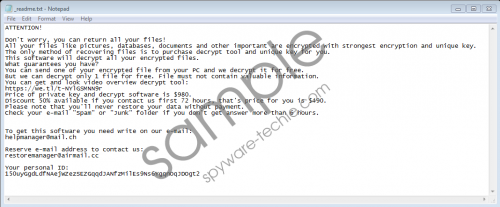 Npph Ransomware screenshot
Scroll down for full removal instructions
Does it mean that they also share the decryption key? Well, if a STOP Ransomware infection employs an offline encryption key, there is a public decryption tool that can help you restore the affected files. However, if an online key is used, every single infection has a unique decryption key, and you may have to look for other file recovery methods.
The best file recovery method is clearly file backup. The file backup refers to a storage space where you store copies of your files. It might be an external hard drive or an online storage space where you can save the files, but a lot of users do not think that it's important because they don't think they will get infected. But of course, no one is safe, so you have to consider the possibility that a ransomware infection is always near, and so you should back up your files.
Npph Ransomware usually gets distributed through spam emails when you get spammed with random attachments. These attachments often look like legitimate files and you are urged to open them. If you don't recognize that the files are fake, you eventually have to deal with file encryption, and the ransom note that says the following:
ATTENTION!

Don't worry, you can return all your files!
All your files like pictures, databases, documents and other important are encrypted with strongest encryption and unique key.
The only method of recovering files is to purchase decrypt tool and unique key for you.
<…>
Price of private key and decrypt software is $980.
Discount 50% available if you contact us first 72 hours, that's price for you is $490.
Even though the discount for the decryption key might look like a good deal, you should still refrain from contacting the criminals. They might as well just collect the payment and scram, without giving it a second thought.
Hence, you need to remove Npph Ransomware from your computer, and you can do it by following the removal instructions at the bottom of this description. At the same time, you need to look for ways to restore your files. As mentioned, it should be possible to restore at least part of your files if they were encrypted with the offline key. If not, and if you don't have a file backup, you might want to address a professional who will help you deal with the situation at hand. The most important thing is to avoid similar infections in the future.
How to Remove Npph Ransomware
Remove the newest files from Desktop.
Remove the most recent files from the Downloads folder.
Press Win+R and type %TEMP%. Click OK.
Delete recent files from the directory.
Press Win+R and type %LOCALAPPADATA%. Click OK.
Remove the folder with a long random name.
Use SpyHunter to scan your computer.
In non-techie terms:
Npph Ransomware will lock up your files and you won't be able to access them. It is not hard to remove Npph Ransomware from your system, but it might be challenging to restore your files. Thus, you have to consider creating your file backup, so that you would be ready to counter such malicious infection. Also, don't hesitate to educate yourself about ransomware and the latest cybersecurity practices.