Do you know what Notificatoin is?
Notificatoin is an adware program that should be removed from your computer immediately. It is an old program and chances are that its servers do not work anymore. However, there is no need to keep a dysfunctional adware application on your computer when it could be exploited for malicious deeds. Open Control Panel and uninstall Notificatoin right now. Do not forget that this adware program usually comes with other unwanted applications, so you need to perform a full system check in search for any potential security threats.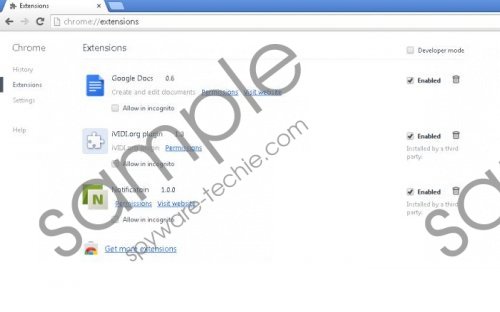 Notificatoin screenshot
Scroll down for full removal instructions
Notificatoin obviously cannot be downloaded notificatoin.com, because the website is dead. It shows how old the program is, but at the same time it is nothing unusual. It is common for adware programs to have dysfunctional homepages. After all, adware programs usually travel bundled with freeware apps and a number of other potentially unwanted and perhaps even dangerous programs. Notificatoin itself comes with Scorpion Saver, when this program is installed together with iVidi application. Users can choose whether they want additional software or not on iVidi installer, and if you leave additional feature boxes ticked, then Scorpion Saver and Notificatoin will be installed on your PC.
Sometimes users do not even understand that they are about to install a potentially unwanted program. Notificatoin and similar applications disguise themselves by giving unrelated names to their setup files. For example, one of the bundled setup files downloaded from a third-party source by our lab team was named The_Mayo_Clinic_Diet_-_Eat_Well._Enjoy_Life._Lose_Weight.exe. Users may think that they are about to download an application that helps to battle weight gain, but they are up for a nasty surprise with Notificatoin in tow.
Needless to say, that Notificatoin is not useful. This program can collect data on what websites you visit and then create a string of tailored commercial advertisements. Also, Notificatoin adds extensions to Mozilla Firefox, Google Chrome and Internet Explorer web browsers. Even if the program is no longer functional, you should not rule out the possibility that malevolent parties could make use of Notificatoin to promote their corrupted content.
This leads to the conclusion that you simply must remove Notificatoin from the system. On top of that, you have to delete all the related adware applications as well. If you do not know what other unwanted programs have been installed on your PC, scan it with SpyHunter free scanner to get a list of potential threats. Then invest in a reliable antispyware tool that would terminate all the dangerous applications automatically.
How to remove Notificatoin
Windows 8
Move mouse cursor to the bottom right of your screen.
When Charm bar appears, click Settings and go to Control Panel.
Open Uninstall a program and remove Notificatoin.
Windows Vista & Windows 7
Open Start menu and select Control Panel.
Go to Uninstall a program and remove Notificatoin.
Windows XP
Click Start menu button and navigate to Control Panel.
Select Add or remove programs and uninstall Notificatoin.
In case Notificatoin remains on your system even after manual removal, you can leave us a comment, or you can simply try out the second set of removal instructions below this article.
In non-techie terms:
Notificatoin is a useless application that will do no good to your PC. You need to get rid of it ASAP, and then protect your system from other potential future infections.