Do you know what NOT_OPEN_LOCKER Ransomware is?
NOT_OPEN_LOCKER Ransomware is a malicious computer security threat that was released quite a while ago. It means that there might be a public decryption tool for it already. Although the program was rather obscure when it was first released so, there might not be any kind of tool available for it. Either way, you should consider removing NOT_OPEN_LOCKER Ransomware from your computer as soon as possible, and please do not feel discouraged about the infection. You just need to be careful about similar intruders in the future because the ransomware endemic is not going anywhere.
This program isn't anything new, to be honest. It is another version of the old Everbe Ransomware. What's interesting about NOT_OPEN_LOCKER Ransomware is that this infection is capable of detecting virtual machines. Now, virtual machines are virtual systems used by security researchers to test malware and other software. Every time a ransomware program enters a target system, it runs a full scan to look for the files it can encrypt and so on. NOT_OPEN_LOCKER Ransomware can recognize that it has been installed on a virtual machine, and it may not work properly, preventing researchers from dissecting it. This is clearly one of the ways cybercriminals employ to "protect" their products.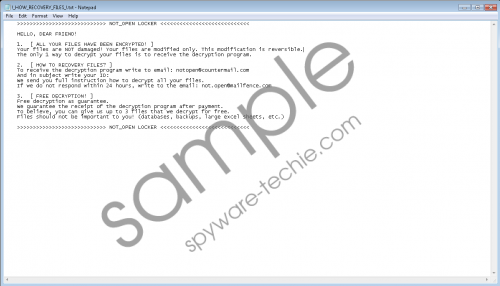 NOT_OPEN_LOCKER Ransomware screenshot
Scroll down for full removal instructions
So, what happens when you get infected with ransomware? Normally, personal files get encrypted with an encryption algorithm. The encryption algorithm changes the information that is stored within the file. The information is usually stored in a byte sequence, and so encryption scrambles that sequence, which makes it impossible for the system to read your files. When the encryption is complete, NOT_OPEN_LOCKER Ransomware displays a ransom note. In the ransom note, the program says that your files have been modified, not damaged. Here's an extract from the message the program displays:
HELLO, DEAR FRIEND!

1. [ALL YOUR FILES HAVE BEEN ENCRYPTED!]
Your files are NOT damaged! Your files are modified only. This modification is reversible.
The only 1 way to decrypt your files is to receive the decryption program.
The message doesn't say how much these criminals expect you to pay for the decryption tool. They only ask you to contact them via the given email. Needless to say, you should never contact these criminals because paying the ransom is highly discouraged by security experts. Also, NOT_OPEN_LOCKER Ransomware was released a year ago, so it is very likely that the program's server is down by now.
If this program is so old, how come you still managed to get infected with it? Well, ransomware apps usually get distributed via spam emails and unsafe RDP connections. So, if some old spam email managed to reach you, and you opened that messaged AND downloaded the file, it's no surprise that NOT_OPEN_LOCKER Ransomware slithered into your PC. The point is that users might be able to prevent multiple malware infections if only they were more careful about the files they download and the programs they load. Thus, to protect yourself from the likes of NOT_OPEN_LOCKER Ransomware, you need to learn more about ransomware distribution patterns.
Also, it is vital that you maintain a file backup. It means that you should make copies of your files and keep them either on a cloud drive or an external hard drive. It is up to you to choose the way you want to store your files, but we have to remember that ransomware programs are there to stay, and so far, the best way to mitigate the worst of a ransomware infection is to keep copies of your files.
Now, if we managed to get that behind our backs, we need to focus on removing NOT_OPEN_LOCKER Ransomware. The truth is that this malicious infection deletes itself once the encryption is complete, so there are no installer files left to remove. You just need to delete all the copies of the ransom note that are scattered throughout the system.
If you do not want to remove them manually, scan your computer with the SpyHunter free scanner. It is very likely that you will find more potential threats on-board, so it would be convenient to remove them all at once automatically. For more information, feel free to leave us a comment below.
How to Remove NOT_OPEN_LOCKER Ransomware
Delete all copies of the !_HOW_RECOVERY_FILES!.txt file.
Run a full system scan with the SpyHunter free scanner.
In non-techie terms:
NOT_OPEN_LOCKER Ransomware is a dangerous computer infection even though it is old. It can still encrypt your files, but it probably cannot issue the decryption key anymore. Hence, the importance of a file backup is very high. We always emphasize that users should learn more about ransomware distribution patterns, and NOT_OPEN_LOCKER Ransomware is a good example of the reasons behind that. When you remove the remnants of this infection from your PC, be sure to invest in a powerful security tool.