Do you know what Norsk Politi Institutt for Cybercrime virus is?
If you live in Norway and tend to browse the Internet with no security tool on you PC, Norsk Politi Institutt for Cybercrime virus may easily penetrate into the system of your PC and turn everything upside down. You will get surprised how this piece of ransomware can change the settings of the system. Once it gets inside, you lose your access to the desktop icons; moreover, you will surely find a misleading message, explaining why the PC is locked, which is the key element of the virus, which should be removed without hesitation.
If the computer was simply disabled without a reason, you would think that it has been caused by a computer infection. Not to arouse your suspicion, the virus displays a message containing the emblem of the Norwegian police (Politiet) with a sub-heading "Institutt for Cybercrime". Moreover, the flag of the country is depicted to show that the message is addressed to the Norwegian audience. Most importantly, the notification contains false accusations that, for example, you might have violated copyright laws by using and distributing software or pieces of music. However intimidating the accusations may seem to be, the whole message is a fraud; and you should remove Norsk Politi Institutt for Cybercrime virus instead of following the instructions saying that you must pay money to unblock the computer.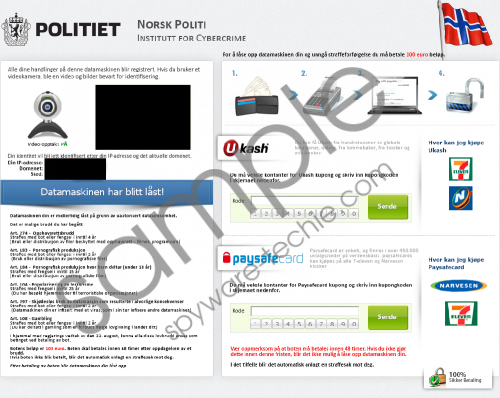 Norsk Politi Institutt for Cybercrime screenshot
Scroll down for full removal instructions
The sum of money demanded to be paid is 100 Euros, and the money, according to the bogus notification, should be transferred through Ukash or Paysafecard, depending on which you prefer most. However, if you compare this message to other Ukash viruses such as Eenheid Voor de Bestrijding Cybercrime Virus and Ministere de L'interieur Virus, you will find that they are identical except for the institution presented and the language in which the text is written. The main thing in common among the messages is the fact that they are created by cyber criminals. Hence, do not delay and remove Norsk Politi Institutt for Cybercrime virus or any malicious program asking you money.
If you have ever tried to delete malware manually, you know that every procedure related to malware removal has to be performed flawlessly. Therefore, to avoid any possible errors, use SpyHunter, a legitimate and powerful spyware removal tool. Those whose operating systems are either Windows Vista or Windows 7 have to restart the PC in Safe Mode with Networking, download and install the tool, while Windows XP users have to disable all startup entries so that the infection does not block the anti-spyware program. If you want to remove Norsk Politi Institutt for Cybercrime virus as soon as possible, follow our detailed removal instructions:
Windows Vista/7:
Restart the computer.
Press F8 while the computer is rebooting.
Use arrow keys to navigate the Advanced Boot Options menu and select Safe Mode with Networking.
Press Enter to confirm.
Open any of your browsers, go to http://www.spyware-techie.com/donwload-sph and download the tool.
Install the program to remove the infection.
Windows XP:
Restart the computer and press F8.
Use arrow keys to select Safe Mode with Networking and press Enter.
Click on Start and launch RUN.
Enter "mscofig" and press OK.
Click on Startup and uncheck all startup items. To confirm, press OK or Apply.
Download SpyHunter and restart the computer.
Install the program in Normal mode and run a system scan.
In non-techie terms:
Norsk Politi Institutt for Cybercrime virus is a cunning infection that can paralyze your PC and display a simulated message saying that you have to pay a ransom of 100 Euros. As soon as you remove the infection, the settings of your PC are restored, and you can use the machine as usual.
Aliases: Norsk Politi virus.