Do you know what No Java Detected is?
If it happens that you see the message No Java Detected appearing on your screen, you should definitely not trust it because it is mainly generated to lure you into clicking and downloading some particular programs. Even though this fake pop-up warning seeks to deceive you, you should know that legitimate software might also produce such a message if it requires Java and it is not installed onto your computer. Thus, you should be very cautious in order not to install some other unwanted programs instead of real Java.
No Java Detected pop-up message usually appears when you have malicious software onto your computer. Our specialists have found out that it is very probable that you have advertising-supported program on your system. It is known that such pop-ups are mainly produced by the software that is based on crossrider engine. These applications mainly include various programs for singing karaoke, for instance, LyricsGet, ULyrics, and the like. If you remove the program responsible for No Java Detected, you will be able to stop the fake message from appearing as well.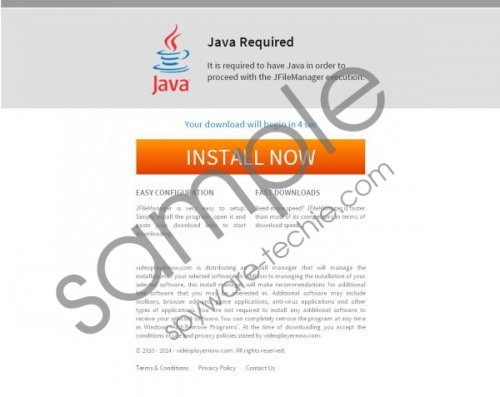 No Java Detected screenshot
Scroll down for full removal instructions
Are you one of those computer users who have noticed No Java Detected pop-up message? We definitely recommend ignoring it and removing the program which produces it. You should not believe this message and we suggest that you do not click on the button and download the setup. If you launch it and complete the installation process, it is very probable that you will end up with even more adware programs on your system. It does not matter which browser you use, No Java Detected fake warning might appear on Internet Explorer, Google Chrome, and Mozilla Firefox. Thus, there is no guarantee that you will not see the message if you switch your browser.
There is a possibility to prevent adware programs from getting onto the computer. If you manage to do that, you will be able to avoid such fake messages as No Java Detected and other unpleasant activities that adware might perform. Do you wonder how to do that? It is actually not difficult; you just have to select custom installation every time you install a new program in order to unselect those applications that are bundled with it. Besides, we recommend downloading software from reliable sources only. If you take into account this advice, you will be able to reduce the possibility of installing various unwanted programs on your system and thus you will not be forced to face their annoying actions.
Do you want to prevent No Java Detected from appearing? You should remove the program responsible for the production. You can use the manual removal instructions if you suspect which program causes you inconvenience. In other case, we recommend scanning your computer with a reliable antimalware tool. It will find all the existing threats and remove them without any difficulties. In our opinion, SpyHunter is one of those antimalware tools than can be definitely trusted.
Remove the unwanted program
Windows XP
Open the Start menu and then navigate to Control Panel.
Select it.
Click Add or Remove Programs.
Select the unwanted program which you will find on the list.
Click the Remove button.
Windows 7 and Vista
Find the Start button in the lower-left part of your screen.
Select it and then move to Control Panel.
Click Uninstall a program.
Right-click on the application which you want to remove.
Click the Uninstall button.
Windows 8
Access the Metro UI menu.
Type "Control Panel" and its icon will appear. Select it.
Select Uninstall a program.
Right-click on the software which acts unacceptably.
Select Uninstall.
In non-techie terms:
No Java Detected is a fake pop-up warning which is going to appear onto your computer if you have other unwanted programs installed on your system. It is known that this message is mainly produced by advertising-supported programs, especially those that belong to Lyrics family. You should remove them from your system if you want to stop No Java Detected.
Aliases: No Java Detected alert.