Do you know what Nilla Weather is?
Nilla Weather is a strange extension that our research team classifies as a potentially unwanted program. At the moment, the extension is officially promoted at nillaweather.com, but if you click the "Add to Chrome" button, a new tab page opens and routes to chrome.google.com/webstore/detail/nilla-weather/cllccgidmbjjdgfiigpnjfmfalbpgkmm. This page on the Chrome webstore represents the installer of the suspicious PUP. At the time of research, nearly 7,000 users had downloaded it, and the reviews were very mixed. If you choose to install the add-on, a confirmation message pops up showing what the add-on is capable of, which includes reading and changing data, recording email address, and detecting physical location. Obviously, if you are not comfortable with this, you should not install the add-on, and if you have installed it already, you should consider deleting it. If you continue reading, you will learn about other reasons to remove Nilla Weather from your Google Chrome web browser.
You might have downloaded Nilla Weather from the sources mentioned already, but you might also have downloaded it from a different source, in which case, it is crucial that you inspect your operating system and see if other unwanted programs or threats exist. If they do, you need to think about removing them as well. All in all, regardless of the source, once the suspicious Nilla Weather is installed, you will see a button at the top of your browser. Once you click it, a weather forecast should be loaded. The PUP works just like Always Weather, which is another PUP that we advise deleting. So, why should you eliminate a seemingly harmless and even beneficial tool? First and foremost, our research team found that it can show advertisements, and we are sure that that is not what you wanted. These ads could be irritating and misleading, and we do not recommend interacting with them. If you end up clicking them, be sure to reset your browser afterward because you do not want any leftover data trackers.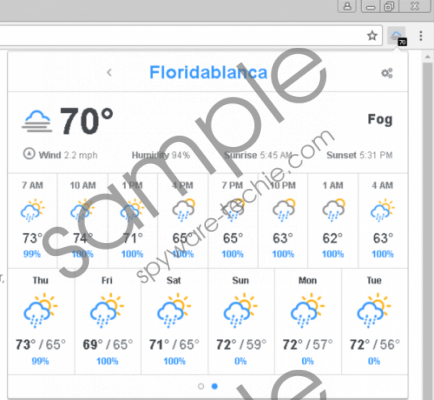 Nilla Weather screenshot
Scroll down for full removal instructions
Another reason to delete Nilla Weather is that it is not very trustworthy. While its services are pretty straightforward, you need to know how the creator of this PUP works and how information about you is recorded and handled. This kind of information is generally presented via a privacy policy, but no privacy policy has been set up to represent Nilla Weather. What does that mean? That simply means that this PUP is not 100% transparent, and since its services are in no way exclusive or irreplaceable, we do not recommend potentially risking your virtual security because of them. Also, since there is no information about how the PUP records information and what kinds of technologies are employed for that, it is strongly advised that you clear browsing data. If you do not know what to do, the steps are added to the removal instructions you can find below.
If you follow the instructions below, you will delete Nilla Weather extension, clear the browsing data, and reset your Google Chrome browser. All of these steps are recommended to ensure that no traces of the suspicious, potentially unwanted program are left behind. If other unwanted pieces are installed on your PC as well, you need to eliminate them too. If you are not capable of doing that yourself, it is the smart thing to do to install anti-malware software. The best thing is that even after it erases existing PUPs or threats, it will continue serving you as a reliable security tool.
Remove Nilla Weather
Open the browser and tap keys Alt+F.
Select More tools and then Extensions.
Click the recycle bin next to the unwanted extension and select Remove.
Tap Alt+F again and now select Settings.
Scroll to the bottom and click Advanced.
Go to Privacy and security and click clear browsing data.
Set the time range, mark the boxes, and click CLEAR BROWSING DATA.
Scroll to the bottom again and now click Reset.
Confirm the action and then restart the browser.
In non-techie terms:
Nilla Weather is not a malicious threat, but it is not a useful or highly reliable tool either, and that is why it is classified as a potentially unwanted program. It is recommended that Google Chrome users delete Nilla Weather from their browsers because it is not transparent or useful. You should be able to erase this PUP manually using the instructions above, but you can also successfully employ anti-malware software that doubles up as malware removal and security software. If you have any questions about the PUP or its elimination, please continue reading.