Do you know what Nice Day Extension is?
Nice Day Extension is a browser plug-in that is supposed to provide you with the newest information about the weather conditions in your location. Our research team says that this plug-in is a potentially unwanted application because it may have some undesirable features. Also, it may be added to your browser accidentally. If you do not know how this extension entered your system or you think you have had enough of it, you are more than welcome to remove Nice Day Extension from your PC. Check out the manual removal instructions below for more details.
Computer users probably sometimes find it hard to differentiate between real threats, normal programs, and such undesirable applications as Nice Day Extension. After all, there is nothing inherently malicious about this browser extension. Even if we look at its page on the Chrome Web Store, it seems that the extension is there to improve your overall web browsing experience. The page says that the extension is offered by skyinc.net, and the plug-in 'searches your address and locates cities quickly, provides detailed weather for all cities worldwide, current temperature, current weather condition, humidity, wind speed and direction, in addition, ten days, 18 hours weather forecast, and is 100% free.' Sounds great, doesn't it?
However, Nice Day Extension may also come via pop-ups and bundled downloads, and this is where it gets complicated. By pop-ups, we mean the annoying pop-up ads that you encounter when you visit random file-sharing pages, online gaming sites, and other domains that support third-party advertising. Quite often, these pop-ups jump into your screen the moment you click something on the said site. Then, the pop-up may resist being removed, saying that you need to add Nice Day Extension to your Chrome browser, or else the window will not close.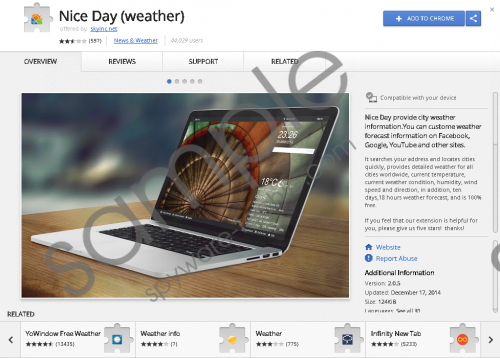 Nice Day Extension screenshot
Scroll down for full removal instructions
Aside from this intrusive technique, Nice Day Extension may also enter your system with several other applications, especially if you tend to download freeware apps from third-party sources. Always be careful when you install new applications because you might be up for a lot more than you have bargained. The bottom line is that your web browsing habits are very important when it comes to protecting your system and your personal information from malicious exploitation, so you are about to install something new on your PC, be responsible about it. Read up about the program or at least scan the installation file with a security tool of your choice.
Perhaps our main security concern about this extension is that it could share the data it has collected about you with unreliable third parties. Since Nice Day Extension can display commercial advertisements, it needs information about your web browsing habits to customize those ads. When you encounter customized commercial advertisements, you are more likely to interact with those ads. And this exactly what the promoters want from you. In fact, this is also what the extension wants from you. After all, if you click those ads, the plug-in is bound to be paid for the traffic it generates for the third-party websites.
What is the worst that can happen to you when you click the Nice Day Extension ads? There is always a risk of a malware infection. Of course, the risk is very small, but it is there. For the most part, you will be exposed to a great number of commercial websites that are involved in random online marketing schemes. So sooner or later you will be asked to pay for something in one way or the other. When you get redirected to unfamiliar pages, you need to keep your financial information to yourself and focus on getting out of those websites.
Another thing you need to do is delete Nice Day Extension from your browser. If you think there might have been more modifications performed on your browser, you can always restore its settings to default. Then all the unwanted applications will definitely be gone for good.
For full protection, do not hesitate to acquire a powerful antispyware application. As mentioned, there might be more undesirable tools on-board, so a full system scan with a reliable security tool will definitely help you take care of that. Do all it takes to safeguard your system against various threats.
How to Delete Nice Day Extension
Launch your Chrome browser.
Press Alt+F and click More tools on the drop-down menu.
Go to Extensions.
Remove Nice Day from the list.
Restart your browser and scan your PC with SpyHunter.
In non-techie terms:
Nice Day Extension is an annoying nuisance that should not be tolerated. You will do yourself a favor if you delete this plug-in today. While you are at it, please consider looking for other unwanted applications, as you are bound to have them (such programs usually travel in groups). To deal with all the potential threats, you should employ a legitimate antispyware program. If you do that, you will automatically ensure that your system is protected against similar intruders in the future.