Do you know what Newstartsearch.com is?
Newstartsearch.com might look like just another unpopular search engine, but it is like that for a reason. Malware experts have deemed it a browser hijacker because its developers use malicious software bundles to install it on your browser. This hijacker is intended to replace your browser's default homepage address. This search engine is good for nothing, so we recommend that you remove it from your PC as soon as the opportunity arises. However, if you need for information about this search engine to convince you that it is indeed malicious, then please read this whole article.
Let us begin by saying that Newstartsearch.com may be part of an emerging browser hijacker family. We have recently written about Checkspeedsearch.com, a browser hijacker that is nearly identical to Newstartsearch.com. The fact of the matter is that both of them were created by a company known as Hopebest. We believe that this company may be a new player in the browser hijacker development business. However, we will have to see if this company will flood the web with similar browser hijackers.
Our malware analysts say that Hopebest uses malicious software installers to get Newstartsearch.com onto the computers of unwary users. Newstartsearch.com said to be included in a malicious software bundle that is configured to inject it into your browser secretly. In most cases, such installers do not disclose the presence of additional content and install it automatically. Therefore, researchers say that the malicious installers that feature Newstartsearch.com will not allow you to uncheck its installation. You may encounter software bundles that have this particular browser hijacker on questionable freeware distributing websites such as Filewon.com, Filewin.com, Malavida.es, Descargar.es. Now that we have covered the origins of this hijacker, let us take a look at how this hijacker works.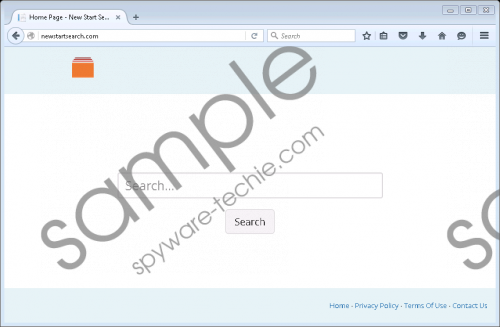 Newstartsearch.com screenshot
Scroll down for full removal instructions
Research has shown that this hijacker can replace the homepages of Google Chrome, Mozilla Firefox, and Microsoft Internet Explorer. The aim is to make you use this hijacker as a regular search engine. Newstartsearch.com features advertisements and promoted links in the search results which is not uncommon for legitimate search engines, but this hijacker does that excessively. Nearly all of the search results are ad-supported and given its shady origins, there is no telling whether they are safe to click 100 % of the time because it is possible that some of the promoted links are of malicious nature and can subject you to fake online shopping websites, and so on.
It is worth mentioning that this hijacker has been configured to collect information about you to improve its services allegedly. It can collect personal and non-personal information about you. Non-personally identifiable information includes your link clicks, page views, and login times, IP address, data about the pages accessed, mobile network information, and search history. Non-personal information is collected using browser cookies, web beacons, and so on. Note that web beacons are small graphic images that may be embedded in images on this hijacker's page Personal information is used when you log into Hopebest's services via Facebook or another social media platform. All of this is done to allegedly improve the services you receive. However, this information can be shared with third parties such as advertising companies, affiliated companies, authorized service providers, and so on. The collected information can be used for advertising purposes as the information helps the company present you with somewhat customized, region-specific ads that are designed to generate more adverting revenue since you are expected to click the promoted links more often.
As you can see, Newstartsearch.com is one malicious search engine that poses as legitimate but can enter your PC by stealth only. Its developers have resorted to deceptive distribution tactics that involve replacing your browser's homepage with it without your knowledge or consent. Not only that but this hijacker's search results are full of ads and promoted links that can be malicious in nature and jeopardize your computer's security. Therefore, we invite you to consider removing Newstartsearch.com if you have it on your browser because it is unlikely that you placed it as the homepage willingly. Please see the guide on how to replace the homepage address for your particular browser below.
How to replace the homepage address
Google Chrome
Press Alt+F keys.
Select Settings.
Click Set pages and enter a new address.
Click OK.
Mozilla Firefox
Press Alt+T and click Options.
Select General.
In the Home Page box, enter a new homepage address.
Microsoft Internet Explorer
Press Alt+T keys.
Select Internet Options.
Enter a new URL in the home page address line.
Click OK.
In non-techie terms:
Newstartsearch.com is nothing more than a malicious search engine that we have classified as a browser hijacker due to the way its developers distribute it. It can end up on your browser as the homepage address without your knowledge. Another problem is the fact that it can collect anonymous and personal information using several methods to show customized search results with ads that bring this hijacker's owners ad revenue. Therefore, you ought to remove this malicious search engine as soon as you can.