Do you know what News1free.org is?
If you find News1free.org in your browsers, it either means that you speak Russian and live in a post Soviet country or that you click on the wrong content previously. When your PC is not protected by an up-to-date security tool, you can easily install such a browser hijacker or any other malware infection really. This hijacker can expose you to questionable contents through news articles and web searches. Another issue regarding this threat is that its presence may indicate the presence of other malware programs, too. This could mean multiple virtual security threats that your system has to deal with. Therefore, we advise you to remove News1free.org before more infections start to drop onto your computer or cyber criminals manage to scam you on a fake websites you get redirected to.
Many users may still think that malware infections use some magical tactics to appear on their system. Although there are certainly ones that use stealthy methods to infiltrate your computer, but the majority of such infections as this happen with your knowledge as a matter of fact. This means that most of the time you are offered a way out of installing such a hijacker. It is another question that you may not see or notice this. Browser hijackers like News1free.org can be offered for you to install when you are installing free programs, such as potentially unwanted programs. It is also possible that you cannot even install the free software until you agree to install this hijacker. This is a rather aggressive marketing technique that we do not advise you to tolerate.
It is definitely worse when you download such a bundle from suspicious websites like torrent and freeware pages. In that case it is quite likely that you will also install adware programs, browser hijackers, fake warnings, Trojans, and useless potentially unwanted programs as well. This can also happen when you click on compromised third-party ads. Such commercials can be generated by malware infections that are hiding on your computer (e.g., browser hijackers and adware programs) but you can also see them when you visit suspicious websites related to gaming, file-sharing, and porn. Remember that it is enough to click on the wrong content and you could drop a whole bundle of threats onto your machine. This is the typical situation when it will not be enough for you to delete News1free.org alone from your computer; you will also need to detect all other threats before you can set out to eliminate them all.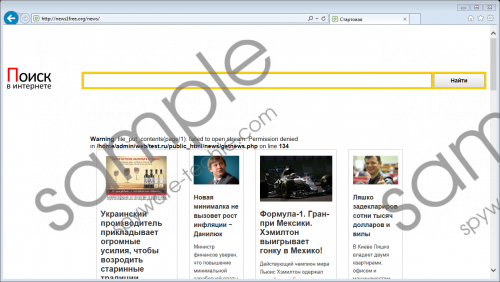 News1free.org screenshot
Scroll down for full removal instructions
You always need to be careful when you are installing a bundle even if it is a legitimate one from an official site because you may install unnecessary tools. But when it comes to malicious bundles, it is even more important that you read the license agreement carefully and all the pages of the installation wizard because this is the only way for you to know what you are about to let into your virtual world. If you are lucky, the wizard informs you about the content of the package and the browser setting changes. These components are usually assigned a checkbox that is selected by default. It is possible though that these boxes are only visible when you choose the advanced or custom option at the beginning. If you overlook these options though, they will be installed by default. This is why most inexperienced users may think that this browser hijacker or other threats appear in some "magical" way on their system, without their permission. If you may have installed such a package lately, you should delete News1free.org and make sure that you eliminate all other questionable and malicious programs as well.
This featured search engine page provides you with a search field as well as Russian news articles below it. These articles have headlines and thumbnails that lead to the full article. These articles look a bit shady to be frank and the pages might contain third-party ads but your might also be redirected further to malicious websites. These may not even be always in Russian. For example, our researchers say that you may see English advertisements, which proves that the creators may think bigger than targeting only the Russian-speaking countries. The only way for this hijacker to generate revenue is to promote third parties. This infection seems to do everything it can to do so. Therefore, you should not trust any content coming from this search page. In fact, the faster you remove News1free.org, the better. So let us tell you how you can do that.
We recommend that before you reset all your affected browsers, including Mozilla Firefox, Internet Explorer, and Google Chrome, you check the list of tasks in the "%WINDIR%\Tasks" and "%WINDIR%\System32\Tasks" directories for suspicious tasks that could be related to this infection. We have included the necessary instructions below so that you can put an end to this annoying infection. If you have had enough of the constant flood of infections, maybe it is time for you to install a powerful and up-to-date anti-malware program, such as SpyHunter.
Remove News1free.org-related scheduled tasks
Open your File Explorer by tapping Win+E simultaneously.
Locate the following folders to check for suspicious tasks: %WINDIR%\Tasks and %WINDIR%\System32\Tasks
Select all suspicious tasks and press Del or Delete.
Empty your Recycle bin.
How to reset your browsers
Google Chrome
Tap Alt+F and select Settings.
Click Show advanced settings at the bottom of the page.
Press Reset Settings at the bottom.
Click Reset in the confirmation window.
Mozilla Firefox
Tap Alt+H and select Troubleshooting Information.
Press Refresh Firefox.
In the confirmation window, click Refresh Firefox.
Internet Explorer
Tap Alt+X and choose Internet Options.
On the Advanced tab, click Reset.
Select Delete personal settings and press Reset.
Click Close.
In non-techie terms:
News1free.org is a bad search page featuring news pieces that mostly targets Russian computer users. This browser hijacker can appear on your computer if you click on a corrupt third-party ad or link, or when you install a free program that you downloaded from a questionable website. You should not trust any content that this page displays because it may show you unreliable or downright malicious webpages and advertisements. It is also possible that this hijacker redirects you to malicious pages. All in all, you need to remove News1free.org from your computer if you want to feel safer in your virtual world. In order to protect your PC from future attacks, we recommend that you employ an authentic anti-malware program.