Do you know what News Precinct is?
News Precinct is a potentially unwanted program. Why could it be undesirable? The application appears to have functionality that some users might not like. You can learn about the application's qualities that could be annoying by reading our full report. We also discuss the extension's possible distribution channels, its working manner, and its deletion. If you are only interested in learning how to erase News Precinct and how to do so manually, we can offer our removal guide that you can find at the end of the main text. We should mention that, like other potentially unwanted programs, the application can be deleted with antimalware software too. If you have any questions, you can let us know by leaving us a comment at the end of this page.
First, we wish to start with the potentially unwanted program's distribution. Such tools are often spread with bundled software installers that users might find on various file-sharing websites. Also, the application could travel with pop-ups and advertisements. Naturally, we advise not to visit file-sharing websites or interact with advertisements promoting unknown software from unknown developers if you wish to stay away from potentially unwanted programs. We also recommend being cautious, even when you are getting tools from legit websites. As you see, applications like News Precinct can be spread through well-known platforms like Chrome Web Store. Thus, it would be smart to always research the programs you wish to get independently before installing them. A reputable antimalware tool that could warn you about doubtful or harmful tools could also be of use if your goal is to keep your system protected and clean.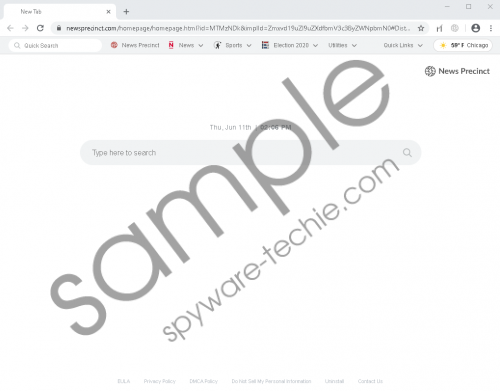 News Precinct screenshot
Scroll down for full removal instructions
Next, we ought to talk about the News Precinct working manner. As said earlier, the application may have undesirable functionality. To be more precise, it could change your new tab page with a website called newsprecinct.com that belongs to the potentially unwanted program. Thus, once the extension gets in, your browser might be loading this website every time you create a new tab. The application's site may come with a toolbar containing links to websites providing news and similar content. The website might also offer a search box, but it might be unable to provide search results as our researchers noticed that the extension's website redirects search queries to Yahoo. Another thing that might seem annoying about News Precinct is that the extension may ask you to allow it to read your browsing history. Applications often need this permission to learn about users' interests and serve them targeted ads. We do not know if this application could do so, but there is a chance it might. If you do not want to share your browsing history or do not find this extension useful, you could delete it.
Our researchers say that users can erase News Precinct manually if they find the application via Google Chrome's extensions menu. If you need instructions that would take you through the manual deletion process step by step, we invite you to use our removal guide that is available below. If you think that the process is too complicated or do not wish to deal with this potentially unwanted program manually, you could scan your system with a reputable antimalware tool and let it delete News Precinct for you.
Erase News Precinct
Launch Google Chrome.
Press ALT+F.
Tap on More Tools and select Extensions.
Choose News Precinct.
Press Remove.
Click Remove again to finish.
In non-techie terms:
News Precinct is a browser extension that works on Google Chrome browses. Researchers decided to classify it as a potentially unwanted program because the application might have functionality that some users might not like. For instance, the extension may change a user's new tab page so that his browser would load a website belonging to the potentially unwanted program whenever a new tab gets created. Also, researchers report that the application may ask for permission to read browsing history. Some users might see this action as a violation of their privacy. The extension might not necessarily gather private data, but it could collect information that some users may consider personal. If you do not want to share your browsing history with a tool classified as a potentially unwanted program or want your browser to load a different website when you create a new tab, you could erase News Precinct. The application can be deleted with the removal guide available above or a reputable antimalware tool.