Do you know what News-back.best is?
Were you asked to click Allow to confirm that you are not a robot on News-back.best? If you did, you should know that this website is classified as an adware server and that it might provide you with notifications contains third-party ads. Such content might be unreliable and irritating as it could be displayed on your screen even after you exit the discussed website. There are ways to stop the site from showing notifications to you. You can learn how to do so and more details about the adware server by reading the rest of this report. There is a removal guide at the end of the article too, that could help you eliminate News-back.best notifications manually. If you need more help or have any questions, do not hesitate to leave us a message in the comments section.
How could users end up on News-back.best? Our cybersecurity specialists say that the adware server could be spread through unreliable file-sharing web pages, various ads, pop-ups, and content alike. Consequently, we advise being attentive while browsing if you do not want to be redirected to questionable websites. It would help if you always inspected unknown websites, unexpected ads, or pop-ups before interacting with them. If you are not entirely sure that your encountered sites or notifications are safe, it is best to keep away. If you want to be warned when you enter a doubtful or potentially dangerous website, you should make sure that your browser is always up to date and get a reputable antimalware tool that could provide extra protection.
At the moment of writing, News-back.best displays the "I'm not a robot" checkbox with a red X sign. A bit above this image, users should see another reCAPTCHA image and a message below it: "I am not a robot. Click Allow to confirm you are not a robot." On the top-left corner of the browser, you should see a pop-up message with a button titled Allow. We advise not to rush to click it or not to click it at all if you do not want to start seeing notifications from News-back.best on your desktop. As you see, the pop-up with the Allow message should say that the website wants to show you notifications. Meaning, it asks if you want to permit such activity. If you do not, it would be best to click Block; this button should be next to the Allow button. Researchers recommend thinking carefully if you want notifications from the adware server because they could contain ads that might be unreliable.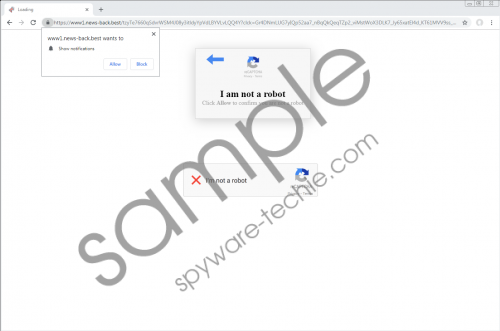 News-back.best screenshot
Scroll down for full removal instructions
What to do if you clicked Allow, but now cannot stand News-back.best notifications? Luckily, you do not have to get used to them as you can remove the adware server from your browser's permissions Allow section. If you have no idea how to do this, you could use the removal guide that is available a bit below this paragraph. If our steps seem too complicated, we advise getting a reputable antimalware tool and scanning your system. Perform a full system scan, and your chosen tool should identify data belonging to News-back.best as an adware helper. Click the deletion button that should appear after the scan, and the adware server's notifications should no longer bother you.
Erase News-back.best
Microsoft Edge
Open Microsoft Edge.
Click the three-dotted icon on the top-right corner.
Choose Settings and select Site permissions from the menu on the left.
Click Notifications and check the Allow section.
Search for News-back.best.
Click the three-dotted icon on the left and press Remove.
Restart the browser.
Google Chrome
Open Google Chrome.
Type chrome://settings/content/notifications into the browser's address bar and click Enter.
Wait for the Notifications settings to be loaded.
Review all permissions listed in the Allow section.
Find the adware server (News-back.best) and block or remove its permission.
Restart the browser.
Mozilla Firefox
Open your browser.
Type about:preferences#privacy into the address bar and click Enter.
Wait for the Privacy & Security settings to appear and locate the Permissions section.
Go to Notifications and press the Settings button nearby.
Locate News-back.best, select it, and press Remove Website.
Choose Save Changes.
Restart the browser.
In non-techie terms:
News-back.best is another adware server that asks users to click Allow to display notifications to them. According to the site, users need to click the Allow button to prove that they are not robots. As you see, its displayed "I'm not a robot" checkbox does not work. In fact, it shows a red X sign. We advise not to pay any attention to this checkbox and read what the message that displays the Allow button says. It ought to tell you that the adware server wants to show you notifications. It means that instead of confirming that you are not a robot, you will give the site permission to show notifications if you press Allow. If you feel like the website is trying to deceive you and do not want any content from it, we advise clicking Block instead. If it is too late because you already clicked Allow, know that you can still get rid of News-back.best by following the removal guide available above or scanning your system with a reputable antimalware tool.