Do you know what Network Security Breach Tech Support Scam is?
If you have found a legitimate-looking Windows OS window placed over your Desktop, you must have encountered Network Security Breach Tech Support Scam. No doubt it is the one that has opened this window on your Desktop if the warning it contains claims that suspicious activity has been detected and "Due to having a Network Security Breach your Microsoft Windows got de-activated." Users are asked to enter the Product Key to fix the problem. We can assure you that the screen opened on your Desktop is fake, so we see no reasons why you should enter your Windows Product Key. Do not try to contact the support by calling them either because you will not receive the help needed. Instead, go to get rid of Network Security Breach Tech Support Scam yourself so that you could use your computer normally again. This scam is not an ordinary program. Instead, it is a harmful infection, but it seems that it can be erased through Control Panel. We know one thing for sure – you cannot let it stay because you could not access any of your programs or perform ordinary activities.
Network Security Breach Tech Support Scam will try to convince you that there are problems you need to go to fix right away. As mentioned in the first paragraph, you will be told that your Windows OS has been deactivated due to suspicious activity detected on your computer. We are sure it is not true because the warning you see on your screen is completely fabricated. According to our malware researchers, cyber criminals behind this scam only want to get the license key of your Windows OS or simply try to convince you to dial the provided telephone number 1-866-324-2085 (another telephone number might be used as well). Do not enter the product key and, additionally, do not even think about dialing the number you see because you will contact cyber criminals. They will try to sell you unnecessary software and services. Also, they might try to steal certain personal details about you. Last but not least, it is very likely that the fake window will stay on your Desktop even after you make a call and pay for the service. Therefore, you should ignore the telephone number you see and, instead, go to solve this problem yourself. Your one and only job is to remove Network Security Breach Tech Support Scam. The last paragraph of this article will explain to you in detail what you need to do to erase it fully.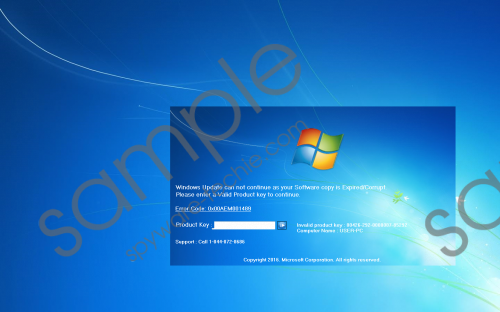 Network Security Breach Tech Support Scam screenshot
Scroll down for full removal instructions
Researchers are sure that users get infected with Network Security Breach Tech Support Scam after they install on their PCs the program called PCCleaner. They download it from the web expecting that they could clean their computers, but all they get are locked Desktops. Yes, this scam pretends to be a beneficial application, so it might become quite prevalent. It does not mean that it is impossible to prevent such infections from entering the system. You will ensure the system's maximum protection by installing a security application on it, so do this today because Network Security Breach Tech Support Scam is not the only infection that can illegally enter computers and make modifications on them.
The Network Security Breach Tech Support Scam removal will not be very quick or easy, but you still need to remove it from your system because you could not use your computer as long as it stays. Our manual removal guide will make it easier to erase it, but you will still have to put some effort into the removal procedure yourself because it is quite a stubborn infection.
How to remove Network Security Breach Tech Support Scam
Press Ctrl+Shift+S.
Press Ctrl+Alt+Del and launch Task Manager.
Click File and select New Task (Run…) or Run new task.
Type Control Panel in the box and click OK.
Find and remove the entry of Network Security Breach Tech Support Scam.
Launch Task Manager again.
Repeat the 3rd step.
Type explorer in the box.
Click OK.
In non-techie terms:
Network Security Breach Tech Support Scam is one of those nasty infections that try to convince users that serious problems have occurred. We can assure you that you computer is fine, so there is no point in providing the product key or dialing the telephone number indicated on the opened screen-locking window. Your only job is to delete the scam from your computer fully if your screen has already been locked, i.e., if you have already encounter this scam because it will not allow you to use your PC if you let it stay.