Do you know what NetSurf Ads are?
If NetSurf Ads keep bothering you when you surf the web, it is a sign that a new Google Chrome add-on has been installed and enabled on the browser you use. It is promoted as the "browser add-on that helps you shop better", but our team of experienced researchers cannot confirm that it is as beneficial as it claims to be. Our specialists say that this browser extension might even be associated with certain issues – they might arise if users click on all NetSurf Ads they see. To be frank, it is impossible to avoid them all when they keep appearing on the screen automatically without the prior notice, so users, no matter how hard they try to ignore them, still click on these commercials sooner or later. It does not necessarily mean that problems will emerge immediately, but it is definitely not safe to click on all ads shown by adware programs. Read the next paragraph to find out more and then decide whether NetSurf, a browser extension showing ads, should stay installed.
It seems that users believe that they can save some money at online shops with the help of NetSurf because 22 148 users have already installed this add-on from the Chrome Web store (chrome.google.com/webstore/detail/net-surf/dfloejogjogbalabpfaiiionlclpkekk). We cannot blame them because it makes a promise to find the "lowest prices for the products on your shopping list." After installing this browser extension, users start seeing coupons, shopping suggestions, and other types of commercial advertisements. Some of these ads might really let users known where to buy products they are viewing for a lower price, whereas others might be shown to them with the intention of driving traffic to certain third-party pages only. Theoretically, users might also be taken to pages that offer users to purchase items that do not even exist. What we try to say here is that not all NetSurf Ads can be trusted, so keeping the NetSurf extension generating them is not recommended. Users should also eliminate this piece of software from their browsers to stop another activity it performs on their computers too – the collection of information. Although it promises not to record personally-identifiable information, it gathers a bunch of non-personal details, e.g. URLs visited, a browser type and version, product-related keywords, and technical information. These details cannot identify users personally, but they might still tell the developer of NetSurf a lot about a user.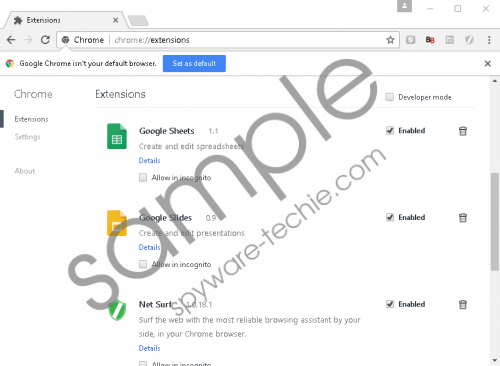 NetSurf Ads screenshot
Scroll down for full removal instructions
The NetSurf extension that keeps displaying NetSurf Ads on users' screens can be downloaded from net-surf.webstore-advisor.net/us/install (an official website) or chrome.google.com/webstore/detail/net-surf/dfloejogjogbalabpfaiiionlclpkekk (the Chrome Web store). Additionally, it can be spread in software bundles, specialists say. Similar extensions that promise to help users save some money exist too, e.g. Pro Flip and Enhance Pro, and they are usually spread bundled as well, so you should be cautious if you do not want to find them installed on your browsers too. Our security specialists have two pieces of advice for users: first, install new applications downloaded from the web with great care and go to ensure the maximum protection of your computer by installing a security application and enabling it to perform system scans periodically.
You must be seeing NetSurf Ads when you use Google Chrome to surf the web because the NetSurf extension displaying these advertisements is compatible with this browser only. This is, actually, quite good news because it means that you will not spend much time trying to stop the flow of NetSurf Ads. To help you take care of this extension even easier, our specialists have prepared the manual removal instructions. Feel free to use them, but if you do not find them very useful, scan your computer with an automatic scanner to remove it.
Delete NetSurf Ads
Google Chrome
Open Google Chrome.
Click on the menu button (find it in the top-right corner).
Select Settings.
Click Show advanced settings.
Click on the Reset settings button.
Click Reset to have your browser reset to its default settings.
In non-techie terms:
Adware programs rarely travel alone, specialists say, so if you have nothing to do with the installation of the NetSurf extension on your computer, it is very likely that it has entered your computer in a software bundle together with other applications. Not all these applications are necessarily trustworthy, so performing a system scan with a reputable scanner is highly recommended even if the manual removal of NetSurf was successful.