Do you know what NetSpeed is?
Our security researchers indicate NetSpeed as a potentially unwanted program. This means that the application does not have malware features, but it could be annoying or cause specific undesirable consequences. Therefore, it would be for the best to remove NetSpeed from your system by following the instructions you will find at the bottom of this description. We believe that you should not keep on your system programs you do not recognize. In the worst case scenario, it could result in a personal data leak or a malware infection, so you have to do everything in your power to prevent any unwanted consequence.
This program is rather suspicious because potentially unwanted applications are often promoted through their official or partner websites. However, that is not the case with NetSpeed because the application does not have an official website. It has no signature, so it is hard to say who created the application in the first place. What's more, when we worked with the program in our research lab, we found out that the does not connect to any server, so it is really doubtful whether it can perform any useful task. After all, judging from the program's name, it should optimize your net surfing speed, but if it cannot connect to the Internet, how can it increase the browsing speed?
Another annoying aspect of this application is that it gets installed on your computer without your permission. Naturally, it is very likely that you do initiate the installation process, but you are not aware of that. How does that happen? This usually occurs when you download programs from third-party sources. For instance, if you download a video codec or some file converter from a file-sharing website, there is always a possibility that the third-party installer will have more applications bundled together.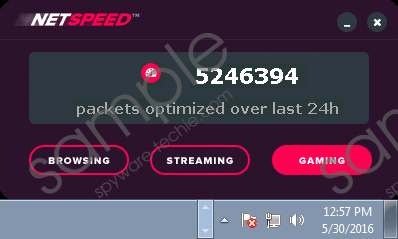 NetSpeed screenshot
Scroll down for full removal instructions
During freeware installation, you should remain cautious and check every single step of the setup wizard, because there might be some information given about the additional applications, too. If you fail to deselect the additional programs, NetSpeed and other unwanted applications will surely be installed on your computer, and then you will have to figure out how to get rid of them.
This is where we encounter yet another NetSpeed's feature that is highly annoying and disturbing. After all, when you install a program, you would assume you are automatically given the means to remove it. However, once again, this is something that this PUP surprises us with. There is no way to uninstall it via the Control Panel. In other words, if you want to get rid of this application, you will need to delete it manually. Luckily, it is not something complicated, so you should not panic, but at the same time, it is not recommended to keep this application.
For one, NetSpeed simply takes up space as there is no evidence this program actually works. Second, its presence in your system may indicate that you have other unwanted applications, too. This is where you should scan your computer with the SpyHunter free scanner and see if you need to delete any other unwanted application. Finally, you would do yourself a favor if you invest in a powerful antispyware tool that would protect your computer from potential threats in the future.
Before we go, we would like to tell just one more thing. It is not just about whether your computer is protected by a powerful security tool. Likewise, constant computer scans and antimalware updates are also just a constituent part of the entire security getup. One of the most important things about keeping your computer safe and clean is your own habit. We would strongly recommend employing save web browsing habits, by staying away from unfamiliar websites. Think twice before you download an application from an unfamiliar source because you might be getting a lot more than you expect. Finally, if you see that you cannot solve a computer-related problem on your own, do not hesitate to address professionals for help. Your experience with a particular security threat may help other users avoid it in the future.
How to Remove NetSpeed
Press Win+R and the Run prompt will open.
Type %PROGRAMFILES% into the Open box and click OK.
Open the directory and delete the NetSpeed folder.
Press Win+R again and type %PROGRAMFILES(x86)%. Press Enter.
Open the directory and delete the NetSpeed folder.
Empty your Recycle Bin.
In non-techie terms:
You probably do not know how NetSpeed managed to enter your system, but the chances are you allowed this program in yourself. Do not panic, this application will not destroy your computer or steal your money. However, it is an annoying piece of software that needs to be deleted at once. Please get rid of NetSpeed without any further ado and check your computer for other potentially unwanted programs. Such applications seldom travel alone.