Do you know what Nesa Ransomware is?
Nesa Ransomware is a malicious computer infection. When it enters your computer, it might seem that the world has come to an end. To illustrate the feeling, remember that "lie down, try not to cry, cry" meme? The feeling is kind of like that. But that does really mean that you have to lie down and cry? Absolutely not. You cannot give up. You cannot succumb to these criminals. You need to remove Nesa Ransomware from your computer, and then fight the encryption, looking for the ways to decrypt your files.
Perhaps one of the most frustrating things about ransomware infections is that it is possible to avoid them. And we often talk about it, but there's always this "it won't happen to me" mentality that puts us all in trouble. It CAN happen to you. Just because you think you're no target for cybercriminals, it doesn't mean they think the same. We always have something to offer for cybercriminals, and thus, they might as well target you with ransomware.
Also, ransomware distribution tactics are very basic. Programs like Nesa Ransomware usually come in spam email attachments. And who downloads those attachments? Users themselves. This happens due to the fact that spam emails that deliver ransomware often look quite sophisticated. Ransomware installer files masquerade as legitimate documents that are supposedly important. They might look like some financial report you have been waiting for. Or maybe it looks like an online shopping invoice. Whichever it might be, ransomware distribution network may trick you into opening the installer file and launching the infection on your computer.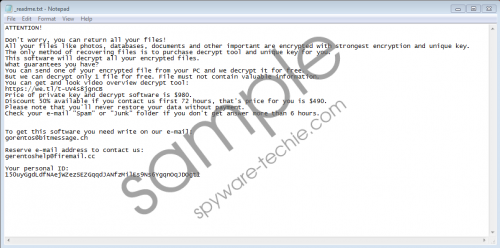 Nesa Ransomware screenshot
Scroll down for full removal instructions
How can you avoid Nesa Ransomware and other similar programs? Well, you can delete spam emails no questions asked for starters. Or, if you think that the downloaded file is important, you can scan it with a security tool before opening it. At least, this way, you will be sure that the file you open will not infect you with some dangerous program.
Now, what happens if Nesa Ransomware still manages to enter your PC. Then, this program will behave like most of the other applications from the STOP Ransomware family. Even the ransom note that this program displays is practically identical to all the other ransom notes dropped by other programs in this group. Here's what you will have to read if you get infected with Nesa Ransomware:
ATTENTION!

Don't worry, you can return all your files!
All your files like photos, databases, documents and other important are encrypted with strongest encryption and unique key.
The only method of recovery files is to purchase decrypt tool and unique key for you.
<…>
Price of private key and decrypt software is $980.
Discount 50% available if you contact us first 72 hours, that's price for you is $490.
This is an extract from the ransom note that you will see on your screen once the encryption has been completed. When the encryption is complete, you can no longer access your files. You will notice that the file icons have changed, and there is also a long extension added to the filenames, so it is easy to see the files that were affected by Nesa Ransomware.
However, no matter what you do, you should never contact these criminals. Maybe you think that your files are worth more than the ransom amount, but there is no guarantee that these criminals would issue the decryption key in the first place. Also, a public decryption tool for Nesa Ransomware is not available at the moment, so you might feel a bit lost when it comes to file recovery.
Nevertheless, it is possible to get your files back if you have a file backup. That is, if you save copies of your files on a hard drive or if you regularly back your files up on a cloud drive, you will definitely be able to get some of your data back. Just remove Nesa Ransomware and all the encrypted files before you transfer healthy copies back into your computer. If you need more file recovery options, be sure to address a professional technician. Also, be ready to do everything in your power to avoid the likes of Nesa Ransomware in the future.
How to Remove Nesa Ransomware
Press Win+R and the Run prompt will open.
Type %APPDATA% into the Open box. Click OK.
Remove the folder with a random alphanumeric filename.
Delete suspicious files from Desktop.
Remove the most recent files from the Downloads folder.
Run a full system scan with SpyHunter.
In non-techie terms:
Nesa Ransomware is a regular ransomware infection. It can lock up your files and then ask that you pay a ransom fee for them. You should never pay anything because it would only encourage these crooks to create more malware. Remove Nesa Ransomware from your computer today and protect your system from other intruders by acquiring a powerful antispyware tool. You should also learn more about ransomware distribution because you can never know when a similar infection barges on your doorstep again.