Do you know what Nemzeti Nyomozó Iroda Virus is?
Nemzeti Nyomozó Iroda Virus is a ransomware which may also be recognized by the name Nemzeti Védelmi Szolgálat Virus. Just like most ransomware threats this infection is targeted at a specific country, and as you can tell by the name, the infection is targeted at Hungarian Windows users. Even though the clandestine PC infection may seem intimidating at first, partly because of the names of Europol, Internet Police and Copyright Alliance attached, you certainly do not need to panic. On the other hand, if you do not remove Nemzeti Nyomozó Iroda Virus timely, it is possible that your computer will become infected with even more dangerous threats. Needless to say, this is not a favorable outcome, and so we recommend that you read this report and delete the running spyware as soon as possible.
Even though the infection corrupting the system is actually the Urausy Trojan, the only threat you are able to observe is the ransomware locking the screen. At first glance, the fictitious ransom warning may seem as if it has been provided by the Police. Schemers behind the malicious program are capable of indicating your IP address, Windows version and country, just to trick you into believing that the alert is truthful:
FIGYELEM! A számitógépe meg van blokkolva a biztonsági megfontolásokból a következo okok miatt.
The accusations listed include the distribution of spyware, the usage of pirated material and the storage of pornographic content. Please pay no attention to the demand to pay a fine of 25000 Forint or any ridiculous, made-up accusations because they are almost identical to the ones related to Police Rendőrség Virus, Az ön számítógépe blokkolásra került Virus and Magyarország Rendőrség Police Virus. These infections are controlled through different Trojans; however, there is no way of telling if they could not attack your PC after you delete Nemzeti Nyomozó Iroda Virus. This is why implementing reliable security software is equally as important.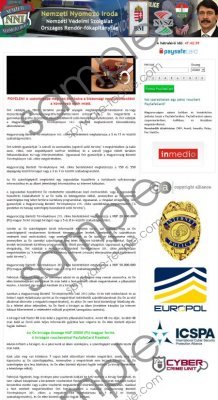 Nemzeti Nyomozó Iroda Virus screenshot
Scroll down for full removal instructions
Some Windows users are experienced with malware and removal tasks; however, if you are not experienced, you do not have the right skills, or you have never dealt with rootkit Trojans like the Urausy one, it would be best to entrust reliable software. SpyHunter has been designed to inspect the system and delete all potentially dangerous infections. If you have no idea how to install this beneficial program onto the PC – see the guides below, and feel free to post a comment below if you have questions.
How to delete ransomware?
Delete from Windows 8:
Tap the Windows key to access the Metro UI start screen.
Launch Internet Explorer and visit http://www.spyware-techie.com/download-sph .
Follow the instructions to download a reliable spyware detection and removal tool.
As soon as the program is installed, scan the computer and remove found infections.
Delete from Windows Vista/Windows 7:
Restart the computer, wait for BIOS to load, and then start tapping F8.
From the Advanced Boot Options using arrow keys select Safe Mode with Networking.
To confirm the selection tap Enter on the keyboard.
Download SpyHunter.
Install the program and delete existing computer threats.
Delete from Windows XP:
Firstly restart the computer.
The moment BIOS loads up start tapping F8.
Using arrow keys select Safe Mode with Networking and tap Enter.
Click YES on the Desktop alert.
Download an automatic spyware remover SpyHunter.
Open the Start menu, click RUN, enter msconfig and tap Enter.
Click the Startup tab, select Disable All and hit OK.
Restart the computer (normally).
Immediately install the automatic spyware detection and removal tool.
In non-techie terms:
If you do not want you personal system paralyzed for good – remove Nemzeti Nyomozó Iroda Virus. Ignore any demands to pay a fictitious fine because it will not help you unlock the system. The best option you have is automatic spyware removal, and the instructions leading to success are presented above.
Aliases: Nemzeti Iroda Virus.