Do you know what nationzoom.com is?
Nationzoom.com is a search engine which has been developed by the Violeter Technology Limited. Even though the application has been developed by a company which is not related to qone8.com, qvo6.com, aartemis.com and similar search engines it is obvious that they are somehow interrelated. As our research has revealed, these search engines can be used to act as browser hijackers which are also capable of reconfiguring the browser shortcut Properties. Once the infection modifies the presented Target line the user has serious difficulties getting nationzoom.com deleted from their browsers, including Mozilla Firefox, Google Chrome and Internet Explorer. If you have little or no experience with malware removal we advise that you continue reading the report.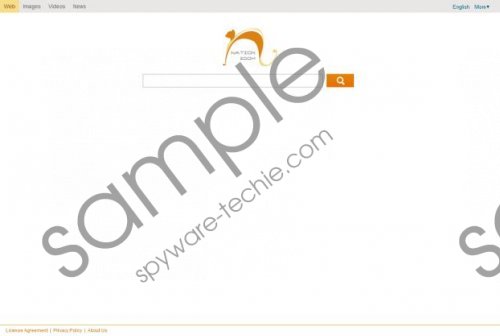 Nationzoom.com screenshot
Scroll down for full removal instructions
If you have not accepted for nationzoom.com to be set as the default search provider and start page of your browsers yourself, this browser hijacker must have been dropped illegally. Even though malicious computer programs could be installed onto the computer in various different ways, hijackers are usually installed as bundled software. For example, if you search for a free version of some program you wish to acquire and install it using the services of an unreliable third party software distributor, there is a chance that various undesirable programs will be installed alongside. Needless to say, some of these could require immediate removal in case they were malicious or unreliable.
Since nationzoom.com search engine is completely useless as it redirects to the search results of Yahoo, there is no reason why you should keep it running on your browsers. We particularly urge you to delete the suspicious browser hijacker because it can cause various security risks. For example, if it enabled third party advertisers to flood you with online advertisements you could be tricked into clicking on pop-ups linking you to sites related to virtual scams or malware distribution. These are the risks you should avoid by all means, and so nationzoom.com removal should be performed right away.
Click the download button below to install an automatic malware remover to have the system protected at all times. SpyHunter toll remove all existing threats, and then you will be able to follow these guides.
Change browser Properties
Right-click on the browser shortcut and select Properties.
Click the Shortcut tab and navigate to the Target line.
Remove the text after firefox.exe"/chrome.exe"/iexplore.exe" and click OK.
Remove from browsers
Remove from Mozilla Firefox:
Launch the browser and click the search provider icon located on the search box.
Go to Manage Search Engines and Remove the undesirable option. Hit OK.
Simultaneously tap Alt+T to open the Tools menu and click Options.
Click the General tab, change/delete the Home Page URL and click OK.
Remove from Google Chrome:
Launch the browser, simultaneously tap Alt+F and select Settings.
Under On Startup mark Open a specific page or set of pages and click Set pages.
Now change/delete the undesirable URL and click OK.
Under Appearance mark Show Home button, click Change and repeat step 3.
Under Search click Manage search engines.
Click X placed on the URL of an undesirable search provider to delete it and hit Done.
Remove from Internet Explorer:
Launch the browser, simultaneously tap Alt+T and select Manage Add-ons.
Go to Search Providers and Remove the undesirable option. Click Close.
Once more tap Alt+T and this time click Internet Options.
Click the General tab and navigate to the Home Page box.
Change/delete the undesirable URL and click OK.
In non-techie terms:
It is strongly recommended that you delete nationzoom.com hijacker from your browsers. The truly clandestine threat can corrupt your browsers and modify the settings so that manual removal could be aggravated. Nonetheless, we advise that you follow the manual removal instructions below which will help you. We also recommend utilizing the automatic malware remover SpyHunter to ensure that your PC is always protected against schemers.
Aliases: Nationzoom Virus.