Do you know what .Nano Ransomware File Extension is?
While you can delete the .Nano Ransomware File Extension from the names of the files that this infection has corrupted, that will do you no good. It will not do harm either, but why waste time on something that will have no positive effect? Unfortunately, if your files were encrypted and the ".Nano" extension was appended, you are in an unfavorable position, as even if you remove the malicious infection, your files will remain corrupted. All is well if your files have backup copies, in which case, you can remove the corrupted files and, after you eliminate the infection, then transfer the backup copies to replace the corrupted files. If you did not use backups to protect your files, learn more about this technology, and make sure to backup the new files you create because that is the only thing that can help once ransomware strikes.
Are you familiar with an infection called "Rapid ransomware?" This threat is the predecessor of the malicious .Nano Ransomware File Extension malware. Both threats are distributed using emails (the launchers are sent as attachments) or using RDP vulnerabilities. These threats slither in using disguises, and they remain silent until all personal files are encrypted. You will find the .Nano Ransomware File Extension attached to photos, documents, videos, and other files that you are likely to consider personal. The threat determines which files are "personal" by checking for specific extensions. If it did not do that, it would encrypt everything, and that could cause the entire operating system to crash. That does not happen, and that is important because the system has to run for the #RECOVERY_FILES#.txt file to be represented appropriately. You can open this file, but do not forget to remove it afterward.
The file displays a text message that is very short: "Hello! All your files have been ENCRYPTED Do you really want to restore your files? Write to our email - Nano18@airmail.cc." As you can see, not a lot of information is made available, and that is intentional because the attackers want the victims to email them. If you emailed the creators of .Nano Ransomware File Extension malware, they could send you malicious files and links, they could sell your email address to malicious parties, and they could push you to pay money for a decryptor. Even if the attackers have a tool or key that could decrypt files, you should not expect to access it regardless of what you do. If you pay the ransom that the attackers request, you will waste your money, and no one will be able to get it back for you.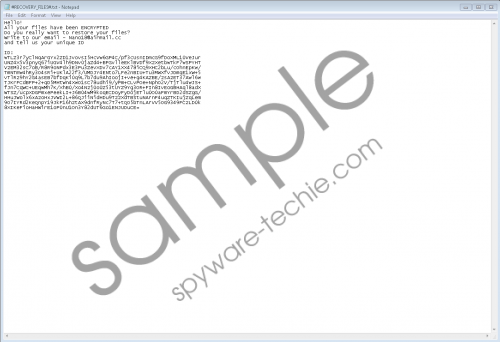 .Nano Ransomware File Extension screenshot
Scroll down for full removal instructions
Do you have experience erasing malicious infections? If you do, you might be able to remove .Nano Ransomware File Extension malware manually, but we cannot guarantee success because we cannot point you to the .exe file that executed the threat. Since the location and name of this file are unknown, we recommend looking into anti-malware software. Legitimate, up-to-date, and reliable software will delete .Nano Ransomware File Extension malware components along with other threats that could be hidden from view. Also, it will establish full protection to keep you and your operating system safe against threats. Of course, to make sure that your files are safe, you should also back them up. We do not recommend using internal system backups because there are known infections that can corrupt them.
Delete .Nano Ransomware File Extension malware
Right-click and Delete the file called #RECOVERY_FILES#.txt (erase all copies).
Identify the malicious [random name].exe file. It could be located anywhere.
Right-click the malicious file and choose Delete.
Empty Recycle Bin to complete the removal of ransomware.
Install and run a legitimate malware scanner to make sure that the system is clean.
In non-techie terms:
If you find the .Nano Ransomware File Extension attached to personal files, you are not in luck. At the moment, it is not possible to decrypt these files, and the attackers who created this malware are unlikely to offer you a viable solution either. They might offer you a decryptor in return for some money, but you are smart and you know that cyber criminals cannot be trusted. In fact, we do not recommend contacting in the first place. To remove .Nano Ransomware File Extension malware, either follow the guide above – but only if you can locate the .exe file – or install an automated anti-malware tool that will catch and delete all malicious files for you. Keep this tool installed to have your operating system protected full-time.