Do you know what mywebsearch.com is?
If you have been forwarded to mywebsearch.com without any of your authorization, or this website is now set as the home page and the search engine, have no doubts that malignant activities are being performed on your personal computer. Even though it is stated that the search engine is powered by Google, this program was actually developed by Mindspark Interactive Network, which belongs to IAC. It is not wise to trust the search results provided by this search engine if it showed up without prior request. This is a trick that schemers use to infiltrate web cookies and discover information about your browsing habits. This activity could be dangerous to the integrity of your virtual security, which is why you should delete mywebsearch.com without any hesitations.
Mywebsearch.com is an attractive search provider because it allows you to connect to Gmail, Yahoo, Facebook, YouTube or Twitter accounts from one location. Is it safe to connect to your private accounts using these quick links? We do not recommend this because it is possible that the cookies related to the website could be used to record your usernames and passwords. Well, is it safe to browse the web using the categories Web, Images, News, Videos, Shopping and Directory? Even though, at first sight, this search engine looks authentic and reliable, it is quite possible to face misleading advertisements and promotional content whilst using it. This is disclosed within the Privacy Policy:
We may allow third-parties, including widget providers, IAC companies, advertising companies, and ad networks, to display advertisements on our Site. These companies may use tracking technologies, such as cookies, to collect information about users who view or interact with their advertisements. […] They also may combine this information with personal information they collect from you.
Even though mywebsearch.com is not considered malicious by all malware detection and removal software, it is recommended that you delete this website if it hijacks your Internet browsers. How should you remove mywebsearch.com hijacker? It is best to implement automatic security tools (e.g. SpyHunter) to remove the infection. Even though this option is the most effective when dealing with malware removal, you will be left with some manual removal tasks. Please follow the steps below to get rid of the hijacker.
How to change browser settings?
Remove from Google Chrome:
Once you open the browser, simultaneously tap Alt+F and select Settings.
Navigate to On Startup, mark Open a specific page or set of pages and click Set pages.
Change or remove the set URL and click OK.
Navigate to Appearance, mark Show Home button and click Change.
Overwrite/remove the provided home page and click OK.
Navigate to Search, click Manage search engines and click X to remove the undesirable search provider.
Click OK.
Remove from Mozilla Firefox:
Launch the browser and click on the drop-down menu icon on the left of the search box.
Select Manage search engines.
Click the undesirable search provider, select Remove and then click Close.
Simultaneously tap Alt+T and select Options.
Click on the General tab, overwrite/remove the Home Page and click OK.
Remove from Internet Explorer:
Open the browser, simultaneously tap Alt+T and select Internet Options.
Click on the General tab, overwrite the Home Page and click OK.
Tap Alt+T again and select Manage Add-ons.
From the menu on the left, click Search Providers and Remove the undesirable provider.
Click Close.
In non-techie terms: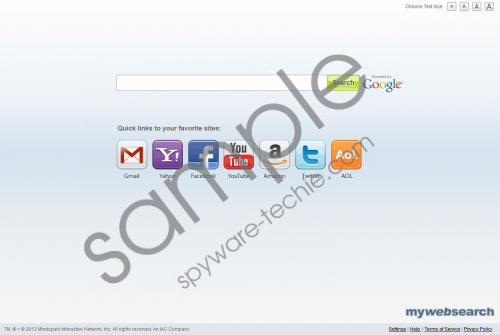 Mywebsearch.com screenshot
Scroll down for full removal instructions
If you wish to remove mywebsearch.com hijacker from your operating Windows system and your browsers, you should employ automatic spyware detection and removal software. Install the application onto the PC, perform a full system scan, delete the infection and then reconfigure the browser settings if needed. Note that the removal instructions above should be applied on all existing browsers.
Aliases: mywebsearch.BH.