Do you know what Mysurfing123.com is?
Browser hijackers, such as Mysurfing123.com, can infiltrate your computer and make changes to your browser settings without your noticing it. So, if you find this search engine in your browsers as the home page, it is most likely that your virtual security has been breached by malware infections. Browser hijackers mainly travel in software packages that may contain several malware programs. Therefore, you need to be prepared to solve multiple system security issues because the consequences may get worse with time. That is why you have no time to waste if you notice this hijacker on your computer. You need to act right away and delete Mysurfing123.com from your computer. According to our researchers, this search engine is unreliable and could pose a threat to your operating system by introducing you to questionable third-party websites.
We believe that most computer users do not even recall installing this application. One of the reasons for this is that there is no official website that promotes this search engine. It is most probable that Mysurfing123.com sneaks onto your machine in a bundle. However, most people do not know that they initiate the download most of the time. And, also, they are the ones who install these unwanted programs, too. Of course, these installers are quite tricky, too, because the schemers behind them know exactly how to mislead unsuspecting users to install the whole package. But if you are careful enough, you can usually deselect the unwanted tools and applications in the installation wizard. For that, you may need to go for Custom installation to reveal the designated checkboxes, while other installers offer them right on the first panel.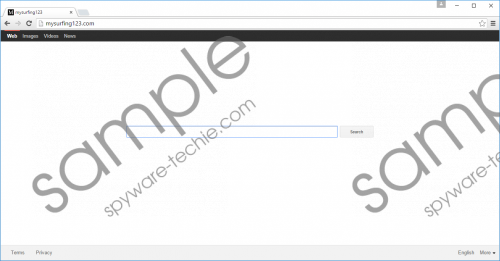 Mysurfing123.com screenshot
Scroll down for full removal instructions
If such an infected bundle lands on your PC, there is a good chance that you have visited questionable file-sharing or torrent sites recently. These are the most common places for third-party installers to be hosted at. If you end up on an unfamiliar site while searching for a new free software to install, you might click on something that looks like a download button, but, certainly, it is not. That is how a lot of users infect their computers. So it is possible that they do not even realize it until a bit later when these malware infections activate on their systems. You cannot miss, for example, when an adware application is on-board because you will definitely notice the flow of disruptive advertisements. In such a case, it will not be enough to delete Mysurfing123.com alone, you will have to make sure that no other infections remain on your computer.
There is really no reason for you to keep this hijacker on your computer. It may also collect information about you and target you with modified search results pages, which, by the way, are simple redirections to a Yahoo.com results page that may be filled with invisible "traps" or links to possibly harmful websites. If you want to protect your computer and your privacy, you should not hesitate. Follow our instructions below and remove Mysurfing123.com right now. Remember to always use reputable websites for downloading software and stay away from third-party ads as well. This way you may be able to avoid the invasion of malware infections. However, if you want to make sure that your PC stays protected, you should use a reliable antimalware application.
Mysurfing123.com Removal from Windows
Windows 8/Windows 8.1/Windows 10
Tap Windows key + I and open Control Panel.
Choose Uninstall a program.
Select the application and click Uninstall.
Windows Vista/Windows 7
Click Start and select Control Panel.
Click Uninstall a program.
Select the application and click Uninstall.
Windows XP
Open the Start menu and choose Control Panel.
Select Add or Remove Programs.
Select the application and click Remove.
Mysurfing123.com Removal from browsers
Mozilla Firefox
Press Alt+H and go to Troubleshooting Information.
Press Refresh Firefox.
Press Refresh Firefox again.
Press Finish.
Google Chrome
Press Alt+F and go to Settings.
Scroll down and click Show advanced settings.
Scroll down again click Reset settings.
Press Reset.
Microsoft Edge
Press the three-dot menu button and choose Settings.
Under Open With, tick A Specific Page or Pages.
Open the dropdown menu and pick Custom.
Type in a new URL.
Go to the Advanced settings section.
Click View advanced settings.
Open the dropdown menu and pick Add new in the Search in the address bar with section.
Choose a new search engine and click Add as default.
In non-techie terms:
Mysurfing123.com is a search engine that shows up in your browsers illegally; thus, it is called a browser hijacker. This is an unreliable search engine that you should not ever use. It may also arrive together with other malware infections, which also have to be dealt with if you want to secure your computer. We recommend that you remove Mysurfing123.com and every other potentially harmful application as well. If you do not want to go about it manually, you always have a choice to go for a professional antimalware tool.