Do you know what Mystart.uninstallmaster.com is?
You might think that Mystart.uninstallmaster.com is a search engine, but we can assure you that it is not. It is a browser hijacker that you ought to remove as soon as possible. Its developers have branded it as a search engine, and it can work as such. The downside, however, is that its search results are bound to contain many advertisements that come from unknown entities. Thus, your computer can become infected with malware or become subject to other malicious content, such as scam websites. In short, this hijacker has been configured to hijack Chrome's homepage, but if you want to know more about how it works, please read this whole article.
This browser hijacker comes with a dedicated browser extension called Uninstall Master, and this add-on is responsible for managing the hijacking. As mentioned in the introduction, this hijacker works only with Chrome, so the same can be said about the extension as well. Once your computer is infected with Uninstall Master, mind you, it will automatically change Chrome's homepage to Mystart.uninstallmaster.com. This is unacceptable since any legitimate application would ask you permission for doing so.
Many browser hijackers use other legitimate search engines to process the search queries. Yahoo.com is the old time favorite. However, Mystart.uninstallmaster.com is different, since it has its search service. Our malware analysts have found that its search results can include promotional links. This is bad news because its owners may agree to promote certain content that may be dangerous to your computer's security. It may promote adware, potentially unwanted programs, and various scam and phishing websites.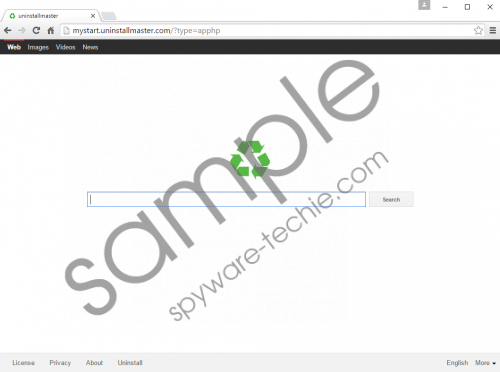 Mystart.uninstallmaster.com screenshot
Scroll down for full removal instructions
You might not know this, but by installing Uninstall Master, you automatically agree to see third-party ads as stated in the EULA which reads:
You hereby further agree that Uninstall Master, its licensees, successors and assigns, shall have the right to sell, license, assign and otherwise transfer any and all of the rights granted by You to Uninstall Master under these Terms, and to display any advertising, publicity, promotional materials and distribution rights in connection with Your Submission.
As you can see, you also agree to provide information about yourself. As stated in the Privacy Policy, when you register on Mystart.uninstallmaster.com, you will be asked to provide identifiable information which, according to the Privacy Policy, "may include your name, email address, age, gender, address, telephone number(s), areas of interest, login name, login password and other self-identifying information." Note that even if you do not register on this website, it will still gather non-personal information about you that includes IP address, browser type, internet service provider (ISP), cookie information, and browsing history. Without a doubt, this information is used to tailor the ads and make more money. However, this information may be given to third parties that could misuse it for shady marketing tactics, such as providing your email address to cyber criminals you might send spam mail to infect your PC with ransomware.
This browser hijacker was developed by a shady software company called Polypower Technology Inc. It is a largely unknown developer that we have not previously encountered. This developer employs not so legitimate distribution methods to get Mystart.uninstallmaster.com as your browser's homepage. We have found that its browser extension comes bundled with adware and other kinds of bad software that it put up for download on borderline-legitimate free software distributing sites. In most cases, this extension is installed automatically, without your approval. Also, you can get this browser hijacker by downloading it right from its dedicated download website at Uninstallmaster.com.
Regardless of how Mystart.uninstallmaster.com got onto your computer, you have to remove it because it can compromise your computer's security with its shady promotions. This should not be too difficult since all you have to do is uninstall it via Chrome's list of extensions and delete the possible leftover files from Chromes folder. Please consult our comprehensive guide below.
How to remove this browser hijacker from Chrome
Launch the web browser.
Simultaneously press Alt+F.
Select More tools.
Click Extensions.
Remove Uninstall Master.
Delete the possible leftover files
Simultaneously press Windows+E keys.
Enter %LOCALAPPDATA%\Google\Chrome\User Data\Default\Extensions in the address bar.
Delete the following files.

Igokiliejmcbhejfdhdgbipecphmdood
igokiliejmcbhejfdhdgbipecphmdood.crx

Then, enter %UserProfile%\Local Settings\Application Data\Google\Chrome\User Data\Default\Extensions in the address bar.
Delete the following files.

Igokiliejmcbhejfdhdgbipecphmdood
igokiliejmcbhejfdhdgbipecphmdood.crx
In non-techie terms:
Mystart.uninstallmaster.com is regarded as a browser hijacker that comes with a browser extension called Uninstall Master. This hijacker is set to automatically change your browser's homepage with Mystart.uninstallmaster.com. This search engine has the ability to inject ads into its search results of which some may be malicious. Furthermore, it can keep tabs on your browsing habits. Therefore, we suggest that you delete this hijacker using our guide above or an antimalware.