Do you know what Mystart.dealwifi.com is?
Mystart.dealwifi.com is a search engine that is set to replace your browser's default homepage. However, this search engine cannot do this on its own, because it is just a website. This particular search engine uses an application that distributes it around the web. from the very beginning, we invite you to remove Mystart.dealwifi.com if you installed unintentionally. We also suggest that users who installed it willingly read this article, because it will prove to you that this search engine and its accomplice DealWifi are not to be trusted.
Before we start discussing Mystart.dealwifi.com, we should take a few moments to take a look at DealWifi. This particular application is advertised as something that will enable you to "Enjoy free WiFi from now on." It is claimed that it will also offer privacy protection and protect you from loitering, phishing, and DNS hijacking. However, it will do nothing of the sort. An application such as this simply cannot offer those functions. It is obvious that the true purpose of DealWifi is to replace your homepage with Mystart.dealwifi.com.
DealWifi has been developed by Rafo Technology Inc. A very fancy name indeed and it is based in the United Stated. However, this "company" already has a poor reputation, because it has previously released a potentially unwanted program — a browser called Mustang Browser. In any case, this program is distributed on its dedicated website at Dealwifi.com and also on the freeware sharing website Softonic.com at Dealwifi.en.softonic.com. DealWifi has more than one clone which include but are not limited to Picexa and OIVU. All three of these applications promote a different search engine, but they are all definitely intertwined.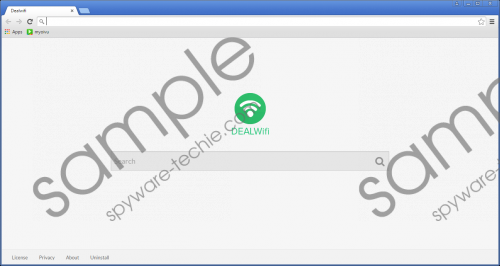 Mystart.dealwifi.com screenshot
Scroll down for full removal instructions
Now that we know that DealWifi is, we should focus on Mystart.dealwifi.com itself. This search engine is a bit different from its predecessors. For example, its clone Mystart.myoivu.com redirects all searches to Google.com whereas Mystart.dealwifi.com has a more legitimate feel to it, since it conducts the searches itslef. However, it does not mean that it is any good. It must also be mentioned that all of the clone applications and search engines are allegedly made by different companies in various parts of the world, but there must be one developer that stays in the shadows probably to avoid genuine responsibility if anything bad were to happen.
The "company" uses the search engine to gather information such as search and browsing history. The website's privacy policy does not state anything about advertisements, but from what we know about its predecessors, it might promote commercial advertisements and the collected information is needed to tailor specific ads to a unique user and the information might even be sold to unknown third parties. Mystart.dealwifi.com and its crony DealWifi are useless. First off, the application uses deceptive means to trick people into installing it. The search engine offers nothing unique to the browsing experience, and given the fact that it is made by an unknown entity that develops potentially unwanted applications makes in unreliable.
So there you have it. Now you know everything there is to know about Mystart.dealwifi.com. This search engine is all about making money for its developers, and it definitely will not improve your browsing experience. We suggest getting rid of it because it has been developed by an unknown software developer that specializes in releasing potentially unwanted programs. It is possible that Mystart.dealwifi.com will inject ads into the search results, just like its predecessors. All in all, you should just stick to your old search engine and remove Mystart.dealwifi.com and its accomplice.
Remove DealWifi from Windows
Windows XP
Open the Start menu.
Click Control Panel.
Select Add or Remove Programs.
Locate the unwanted application and click Remove.
Windows 7 and Vista
Click Start.
Select Control Panel.
Click Uninstall a program.
Locate the application and right-click on it.
Click Uninstall.
Windows 8 and 8.1
Open the Start Screen.
Type Uninstall in the search box and then go to Settings.
In the search results, go to Uninstall a program.
Locate the undesirable program and right-click on it.
Click Uninstall.
Remove DealWifi from Chrome
Simultaneously press Alt+F.
Click More tools.
Click Extensions.
Click Remove the extension.
Change the homepage in Chrome
Simultaneously press Alt+F.
Find the On Startup list and select Set pages.
Replace the homepage URL address and click OK.
In non-techie terms:
Mystart.dealwifi.com is a search engine that you should remove, because it comes from an unknown and unreliable developer that uses numerous aliases. The developer employs deceptive marketing techniques to trick users into installing the search engine's host program, called DealWifi which claims to provide free Wi-Fi services, but does nothing of the kind. Therefore, we recommend that you remove Mystart.dealwifi.com and DealWifi.