Do you know what MySportTab is?
MySportTab is a piece of software compatible with Google Chrome. As research has shown, it is identical to SportsAddict, which is another potentially unwanted program. Yes, you have made a logical conclusion – MySportTab is not considered a fully trustworthy application. Of course, we are still sure that there are people who download and install this application willingly because it promises to help users "find the latest sports information online," including live game results and online news. Of course, not all users can explain why MySportTab is installed on their computers, which suggests that it might be distributed in a different way as well. No matter how it has shown up on your system, you should remove this piece of software from your web browser as soon as possible. We do not say that it is a harmful malicious application, but it is known to be a potentially unwanted program, and these applications might act in an undesirable way. If this has not convinced you to remove it, you should carefully read the next paragraph of this report – it will tell you everything you need to know about this extension.
We have to admit that MySportTab does look useful at first glance; however, we cannot confirm that it is a very beneficial program because research has shown that it only changes the default search tool and New Tab URL to the modified version of mysearch.com. Luckily, it only affects Google Chrome. The page set does not differ from other search providers much. It has a search box in the middle and quick-access buttons leading to popular websites (e.g. Facebook, Amazon, and Gmail) below it. Additionally, it contains a toolbar with buttons that open sports-related websites at the top, for example, http://www.foxsports.com and http://bbc.com/sport/. Unfortunately, MySportTab does not do anything else, so we have some doubts about its usefulness. You do not need to have this extension installed to be able to open websites quickly – you can simply bookmark them all. Additionally, our security specialists do not recommend using this search tool to perform web searches because it has turned out that it might show the modified search results. These modified search results are sponsored links driving traffic to other websites. If you click on any of them, the chances are high that you will end up on a website that will not contain any information you are searching for. In the worst-case scenario, you might even up on a page promoting untrustworthy software. You cannot fix the search tool set, but you can reduce the possibility of ending up on malicious websites by getting rid of it. The only way to make it gone is to delete the MySportTab browser extension.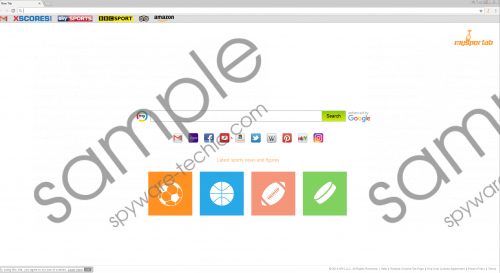 MySportTab screenshot
Scroll down for full removal instructions
You could have downloaded MySportTab yourself from http://install.mysporttab.com/?pid=11111; however, if you are sure you did not do that, it must have found another way to enter your system. For example, you could have installed a software bundle containing it. Also, specialists say that it might be promoted by pop-ups advertisements – they can be found on third-party pages or might be shown by adware installed on the system. No matter what the story behind its appearance on your computer is, it would be better to remove it, especially if you feel that it was installed on your system without your knowledge. Once you are done with this potentially unwanted program, you should install security software on your computer to make sure other suspicious programs do not show up on your PC illegally.
MySportTab is an ordinary browser extension, so it should not be very hard to remove it. Instructions provided below will show you how to access the add-ons manager and eliminate the undesirable browser extension easily and quickly, but if you cannot erase it manually or simply want to remove it quicker, you can use an antimalware tool instead.
Remove MySportTab
Google Chrome
Open Google Chrome and press Alt+F.
Click More tools.
Click Extensions.
Select the MySportTab extension and click the trash button next to it.
Click Remove in the confirmation window.
In non-techie terms:
MySportTab is not as beneficial as it claims to be, so you should not install it on your computer. You should not allow it to enter your computer also if you do not want to find your Google Chrome settings altered because this piece of software will apply changes to it the second it is installed. MySportTab is considered a potentially unwanted program not only because of this. It seems that it might also be installed on users' PCs without their direct permission, which is, surely, not a feature of a fully trustworthy program.