Do you know what MySocialColor is?
MySocialColor is a browser toolbar that is supposed to enhance your social networking experience, but, unfortunately, computer security experts recommend against utilizing this application. Users are urged to remove MySocialColor from their computers because there is no telling what kind of computer security issues the application might cause if left to its own devices. Although MySocialColor is not a direct computer security threat, it might still be exploited by malevolent third parties for malware distribution purposes, so you will do yourself a favor if you get rid of this browser plug-in right now.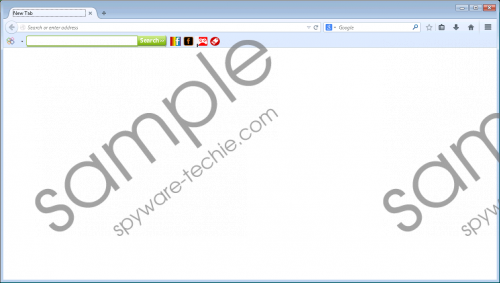 MySocialColor screenshot
Scroll down for full removal instructions
MySocialColor affects Google Chrome, Mozilla Firefox, and Internet Explorer. The toolbar's bar is visible immediately once you have this plug-in installed. Users often think that MySocialColor is a malicious computer infection because they do not know how it enters their systems. However, the inconvenient truth is that, most of the time; users install unwanted applications on their computers willingly. It is also very likely that you installed MySocialColor yourself when you downloaded some freeware app from a third-party file hosting websites.
The problem is that users can often avoid installing the likes of MySocialColor, but they fail to check every single installation step carefully and just go with the "recommended" settings, while they should be opting for "custom." As a result, MySocialColor and similar unnecessary applications get installed on your PC.
If you take a look at the toolbar's bar, you will see that it has several suspicious buttons that look like they lead to Facebook and other popular social networking websites. However, our tests have shown that clicking these buttons redirects you to unfamiliar web pages that are closely related to adware and even malware distribution. Hence, it is obvious that MySocialColor is not as reliable as it would seem, and the application is highly vulnerable to third-party exploitation.
You need to protect your computer and your personal information from potential malware attacks and illegal extortions, and you have to start with the small fry, e.g. MySocialColor. When you remove MySocialColor via Control Panel, run a full system scan with the SpyHunter free scanner. Manual removal does work, but our security team says that some of the files and registry entries used by MySocialColor may be overlooked, and if there are some unwanted files remaining, the infection might come back in no time.
Invest in a computer security application that would terminate these potentially malicious files, and safeguard your computer against other dangerous threats that might be hiding behind every corner! If you need any further assistance with adware removal, you can also contact us by leaving a comment.
How to Uninstall MySocialColor
Windows 8 & Windows 8.1
Drag the mouse cursor to the bottom right of your desktop.
Click Settings on the Charm bar and select Control Panel.
Open Uninstall a program and remove MySocialColor.
Windows Vista & Windows 7
Click the Start menu and go to Control Panel.
Open Uninstall a program and remove MySocialColor.
Windows XP
Press the Windows key and open Control Panel.
Select Add or remove programs and uninstall MySocialColor.
In non-techie terms:
MySocialColor is a potentially malicious application that functions like an adware program. It is a browser toolbar that may collect information on your web browsing habits, consequently redirecting you to dangerous websites. Save yourself the trouble of dealing with severe malware infections by removing MySocialColor today.