Do you know what Myprivatesearch.com is?
Myprivatesearch.com might look like a reliable search engine that guarantees you that your privacy to be protected, but our malware analysts have concluded that it does not do what its promotional campaign claims. Researchers have classified this search engine as a browser hijacker because of the way its developers chose to distribute it. They say that it is included in malicious software bundles that install it on computers secretly. As a result, this malicious search engine replaces the homepage address of the browser. Its developers count on you to use it as a regular search engine, but you ought to remove it instead because of how it gets on your PC. Furthermore, it can show ads in its search results, but there is no telling whether the ads are safe to click as they come from unknown sources.
Our malware analysts have concluded that Myprivatesearch.com has a browser extension for Google Chrome and Mozilla Firefox called MyPrivateSearch. Nevertheless, in some cases, this particular hijacker can be installed on Microsoft Internet Explorer without this browser extension. Malware analysts say that this hijacker's developers should distribute MyPrivateSearch via malicious software bundles. It is said that these bundles were configured to install this browser extension or directly inject Myprivatesearch.com into the browser secretly. Also, they say that it is likely that the bundled installers to not allow users to deselect the installation due to the malicious nature of the installers. The people that make these bundles get paid per install, so they have a financial incentive to get browser hijackers such as this one on your PC.
If MyPrivateSearch were to get onto your PC, then it would change your browser's homepage address immediately. Allegedly, MyPrivateSearch detects and redirects non-private searches to Myprivatesearch.com privacy-enhanced search results. However, nothing could be further from the truth. The reality is that this hijacker does nothing to protect your privacy. Its job is to replace your browser's homepage address so that you could use it as a regular search engine. Its search results feature links to promoted websites because that is how its developers generate revenue. While most of them should be safe to click, our researchers believe that a small portion of them can come from unreliable sources. Hence, some of them can promote malicious content such as malware. Therefore, we do not recommend that you keep Myprivatesearch.com on your PC.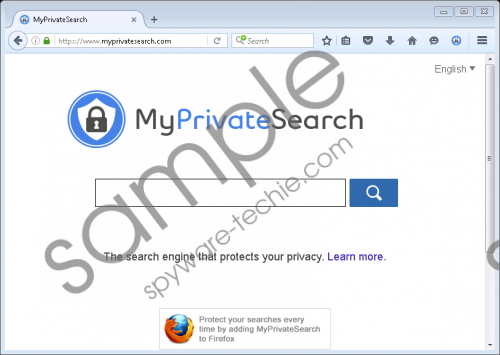 Myprivatesearch.com screenshot
Scroll down for full removal instructions
Myprivatesearch.com's developers claim that this search engine does not collect any information about you, including non-personally identifiable information. This non-personally identifiable information includes your IP address, search queries, browsing history, browser type, operating system type, Internet Service Provider, and so on. However, we believe that it should collect at least some of this information as it is mandatory for any website. Also, it is hard to believe that it does not collect any information because such information is required to present users with personalized advertisements.
In conclusion, Myprivatesearch.com is not what its developers claim it to be. It was not designed to protect your privacy but rather hijack your browser's homepage address to show you promotional links in its search results. The promotional links make this hijacker's developers money, so they may be inclined to promote some risky websites. So, to be on the safe side of things, we highly recommend that you remove this browser hijacker from your computer as soon as the opportunity arises. Also, we suggest you scan your PC with an antimalware program to ensure that malware has not penetrated your PC's security.
How to remove this hijacker
Microsoft Internet Explorer
Open the browser.
Press Alt+T keys.
Select Internet Options.
Erase this hijacker's URL.
Enter a new URL in the home page address line.
Click OK.
Google Chrome
Open the browser.
Press Alt+F keys.
Choose More tools and click Extensions.
Locate and remove MyPrivateSearch.
Mozilla Firefox
Open the browser.
Press Ctrl+Shift+A keys.
Select Extensions.
Find MyPrivateSearch and click Remove.
In non-techie terms:
Myprivatesearch.com is a search engine that was created by cyber crooks to replace your browser's default homepage address and make you use it for searching the web. Its search results feature ads and we think that at least a small percentage of them can be of malicious nature. In any case, this hijacker will not provide you with reliable search results, so you ought to remove it and replace it with a better, legitimate search engine.