Do you know what MyOneSearch is?
MyOneSearch is a rather useless browser plugin that you might want to remove. It is claimed that this extension will upgrade your browser to Bing.com or Msn.com. Basically, it is its only stated purpose, and it seems that it does not do anything else. But why would someone need a dedicated application for something as simple as changing the search engine and homepage? Perhaps there is more to it than just changing the homepage and whatnot. Let us find out.
MyOneSearch is advertised and distributed on its dedicated website, called myonesearch.net. As far as we know, this is the only channel of distribution currently available for this program. We have not found or heard of any cases of this extension being bundled with other applications. In any case, however, before we get any further, it must be said that the application is supported by Microsoft Internet Explorer, Mozilla Firefox, and Google Chrome.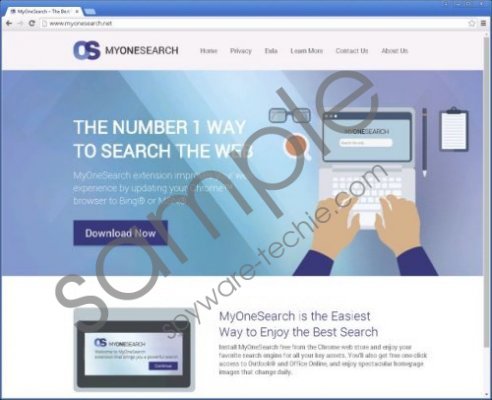 MyOneSearch screenshot
Scroll down for full removal instructions
The application is neither good nor bad. It is just useless. We are not sure why its developers created this application. It promotes websites owned by Microsoft, so it is unclear how the developers make money out to this application. While testing MyOneSearch, we did not encounter any advertisements whatsoever. You may notice, however, that the address of the homepage is set to Trovi.com, which immediately redirects you to either Bing.com or Msn.com. Perhaps the developers created the application to redirect web traffic to Trovi.com first which in turn redirects to the aforementioned websites.
Now, let us talk privacy for a moment. MyOneSearch collects some information about its users. The Privacy Policy states that the application collects technical information regarding your computer and third-party applications installed on it. The extension also collects usage information, including but not limited to websites that you visit, advertisements you view, and search queries. The only personal information is collected via the website myonesearch.net, but it is only collected is you register for their services. So the developers collect and store information, such as your email address, home or work address, telephone and fax numbers, birth date, gender, and so on.
The Privacy Policy also states that the collected information is used for improving and customizing the software and services, provide personalized content which includes third-party advertisements. Maintain and improve quality and operation of the software and services, provide support, and so on. The list just goes on and on. As mentioned, we did not notice any advertisements, and we are not sure how the developers intend to improve the quality of their services if the only service they provide is changing the homepage and search engine.
Well, MyOneSearch is nothing special. It only changes the homepage and search engine to Microsoft-owned websites. It is said that it might show commercial advertisements, we did not see any, but theoretically, it is possible that the application can display them. So if you want to change your homepage and search engine you had previously, we recommend that you remove MyOneSearch from your PC using our manual removal guide provided below.
Remove MyOneSearch from your browser
Google Chrome
Launch the browser, and simultaneously press Alt+F.
Select More tools and click Extensions.
Remove MyOneSearch.
Mozilla Firefox
Launch the browser, and simultaneously press Ctrl+Shift+A.
Click Extensions and remove MyOneSearch.
Restart the browser.
Microsoft Internet Explorer
Launch the browser, and simultaneously press Alt+T.
Select Internet Options, select the Advanced tab.
Click Reset and check the checkbox.
Click Reset again.
In non-techie terms:
MyOneSearch is a browser plugin that is nothing short of useless. Its only purpose is to promote a website, called Trovi.com, which redirects users to either Bing.com or Msn.com. In addition to that the application gathers non-personal information about the user, and might even display commercial content. However, such behavior was not observed while testing. But, in any case, the application is pointless, so you can remove it without any hesitation.