Do you know what myMoviesCenter Search is?
The program myMoviesCenter Search is a browser extension that helps you access movie libraries and other movie-related content. The extension works on the Chrome browser and is supposed to enhance your browsing experience by providing you with Yahoo-based search results. However, the myMoviesCenter Search extension has some features that make it less attractive, and you may decide to remove it from the browser if you have not decided that yet.
The myMoviesCenter Search extension is categorized as a potentially unwanted program (PUP) because of the way it operates on the browser and because of the methods used to spread it. Reputable anti-malware programs usually filter such programs out and block them so that no changes related to the user's privacy are made. If you have myMoviesCenter Search on your computer, it has probably managed to access your PC unnoticed, or, in other words, you simply paid no attention to the installation process of some free program distributing myMoviesCenter Search.
The movie search service of myMoviesCenter Search is activated by typing in the letter m in the ULR address box and pressing the Tab key on the keyboard. By doing so, you enable yourself to search for movies o gomovix.com.
By installing myMoviesCenter Search, you agree to have your browser settings changed. The extension replaces your preferred startup page with search.myappzcenter.com which provides you with possibly modified Yahoo search results. Search.myappzcenter.com is used to record your preferences and provide you with some specific links, which are likely to be not related to your search query. Additionally, myMoviesCenter Search may collect some other non-personally identifiable information, including your IP address, browser version, browsing history, etc. This type of information is targeted by the vast majority of PUPs and adware programs so that users' browsing patterns can be determined and when used for marketing purposes.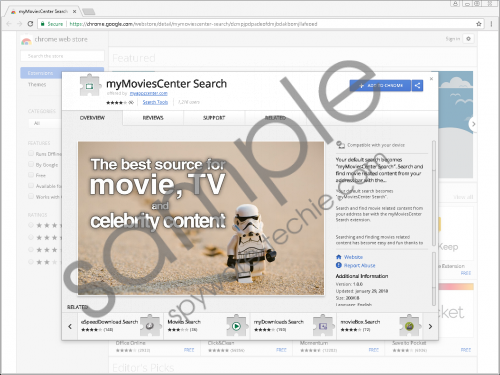 myMoviesCenter Search screenshot
Scroll down for full removal instructions
The Yahoo search engine employed by myMoviesCenter Search is a famous and popular search tool, which you can use as your default search provider. And if you want to keep it as your default search engine, set is as such after removing myMoviesCenter Search so that no third party application manipulates you by providing you with modified results.
The Chrome extension myMoviesCenter Search is one of applications available on the website myappzcenter.com. The website also promotes gamesFinder Search, another browser extension discussed recently on our website. The myMoviesCenter Search extension is also available in the Chrome Web Store, which has failed many times to ban malicious extensions collecting personal information or causing more trouble to unsuspecting users. When you want to install a new program, do some search on it first to make sure that it is reliable. Note that the reviews on the Chrome store website are sometimes fake, written by the developers to deceive more visitors. Pay attention to the date of the reviews and, without a doubt, check several sources to make sure that the program has already been tested and approved.
In general, you should browser only trusted websites. There are many ill-purposed websites offering free online services, and those websites are very often supported by third parties displaying their advertisements. Bear in mind that web banners and pop-up advertisements can be used to drive more traffic to infectious websites. A click on an advertisement inviting you to check some product or take part in a survey, or a game, may lead to adverse consequences, such as malware installation, so avoid browsing ad-supported websites and clicking questionable pop-ups.
The myMoviesCenter Search extension is not a damaging computer threat, but it should be removed from the computer to stop it from monitoring your online behavior. Below you will find a removal guide that will help you remove myMoviesCenter Search, but we recommend relying on anti-malware so that many online threats can be kept at bay.
How to remove myMovies Center Search
Open the browser.
Click the three-dot icon in the top-right corner.
Select More tools and click Extensions.
Remove the undesirable extension.
In non-techie terms:
The program myMoviesCenter Search is a browser extension that is aimed at helping PC users access movie-related content with a few clicks. However, the extension makes some more changes that are not directly related to movie searching. The so-called PUP changes the home page of the browser to search.myappzcenter.com and provides the user with Yahoo search results. Moreover, it monitors the user's online behavior. If you are not satisfied with the features of myMoviesCenter Search, take action to remove it from the browser.