Do you know what MyLuckySearching.com is?
If you are greeted by MyLuckySearching.com when you open your browser (Chrome, Firefox, or Internet Explorer), a hijacker must have slithered in. A browser hijacker is the kind of infection that changes browser's settings, and it does not always matter how it does that. Although a true hijacker will corrupt the browser without your permission, hijackers that can trick you into accepting them should be regarded as potentially dangerous as well. If you are sure that your browser's homepage was changed without your permission, you should have no hesitations about the removal. If you agreed to the changes, you might be hesitant to delete MyLuckySearching.com. If you continue reading this report, you will learn that this hijacker can be dangerous, and, therefore, requires immediate elimination. We also provide you with instructions that will help you get rid of this threat.
There is no one specific program linked to MyLuckySearching.com, but it is most likely that this browser hijacker travels packaged with third-party software. That is because it does not have an official installer, and the third-party distributors responsible for spreading it are likely to attach other programs along with it. These programs might be much more exciting and attractive, and the hijacker might come as an additional offer. You might also be pushed to change homepage settings when installing third-party software. Obviously, if you encounter such installers, you need to abort them because they are clearly unreliable. Unfortunately, malware could be hidden as well, and so it is extremely important that you scan your operating system when you discover MyLuckySearching.com. In the worst case scenario, you will find that you need to delete a bunch of malicious infections along with this hijacker.
MyLuckySearching.com has many clones, including SearchesSpace.com and Myhomepage123.com, and all of them act in the same way. Since our research team has already analyzed all of these hijackers, we can tell you that they are not reliable. First and foremost, they can spy on you using silent data trackers, and personally identifiable information could be collected as well. Since the creator of the hijacker and its affiliates are unknown, it is extremely risky to have personal information recorded. On top of that, the suspicious MyLuckySearching.com cannot offer reliable search services, and that is its only function. First of all, it redirects you to a third-party search engine without your permission. Second, it modifies the results to showcase sponsored content. Even though you are rerouted to Yahoo and Google search engines, trusting the results delivered via them is extremely risky. Due to these reasons, it is strongly recommended that you remove the hijacker immediately.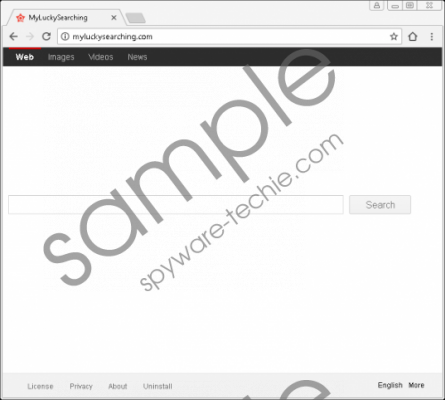 MyLuckySearching.com screenshot
Scroll down for full removal instructions
Although MyLuckySearching.com might look harmless, it is crucial that you remove this browser hijacker as soon as possible. Your virtual security is at risk for as long as this hijacker and other threats are active. Speaking of other threats, you cannot forget about them. If you wish to get rid of them simultaneously, we recommend installing an anti-malware program you can trust. If you want to eliminate them manually, you have to approach every single threat separately. Removing MyLuckySearching.com is not complicated, and you should be able to get rid of it by following the guide below. We also add steps showing how to erase cookies that might have been installed to spy on you. If you have anything else to say or ask about this hijacker, please use the comments section below.
Delete MyLuckySearching.com
Internet Explorer
Open the browser and tap keys Alt+T.
Select Internet options and then click the General tab.
Overwrite the URL in the Home Page box and click OK.
Tap Ctrl+Shift+Delete to open the Delete Browsing History menu.
Check all appropriate boxes and click Delete.
Google Chrome
Open the browser and tap keys Alt+F.
Select Settings and then move to the On Startup menu.
Mark Open a specific page or set of pages and click Set pages.
Overwrite the undesirable startup URL and then click OK.
Tap Ctrl+Shift+Delete to open the Clear browsing data menu.
Select time range, check appropriate boxes, and click Clear browsing data.
Mozilla Firefox
Open the browser and tap keys Alt+T.
Select Options and then navigate to the General menu.
Overwrite the URL in the Home Page section.
Tap Ctrl+Shift+Delete to open the Clear All History menu.
Select time range, check appropriate boxes, and click Clear now.
In non-techie terms:
MyLuckySearching.com is a browser hijacker, and you need to delete it immediately. This infection was created to spy on users and showcase sponsored content via seemingly reputable search engines that the hijacker redirects to without authorization. The removal of the hijacker is fairly simple, but you must not forget to eliminate cookies as well because they might continue spying on you even after you get rid of the hijacker. If many other infections are active, we recommend eliminating them all using an anti-malware tool that can continue protecting your operating system against malware afterward. If you do not take care of that, you can expect undesirable and malicious programs slithering in again.