Do you know what Mylucky123.com is?
Mylucky123.com might look like a regular search engine, but that is not true. Due to its malicious distribution technique, we have classified it as a browser hijacker and recommend that you remove it. This fake search engine comes with a dedicated browser extension that is set to be installed on your PC without your prior consent, and once on your computer, it will display shady promotional links set to be displayed among its search results. Therefore, it will not only enter your PC unauthorized but also subject you to promotional links of unverified legitimacy and they might pose a threat to your computer's security. To find out more about Mylucky123.com, please read this article in its entirety.
According to this fake search engine's About subpage, "In order to make mylucky123 your default search engine in your browser, you can the information on our Toolbar & Plugins page." Sure, this sentence is a hardly intelligible, but from what we understand, but it clear that it comes with a browser extension or toolbar that manages the hijacking process. Once on your browser, this elusive browser extension is said to replace the homepage address of web browsers such as Internet Explorer, Chrome, and Firefox. The problem is that the browser extension that it comes with does not allow you to make the decision on whether to replace the homepage, and the extension itself is said to be distributed via malicious techniques, but more on that later.
Once Mylucky123.com is set as your browser's homepage and if you choose to use it as a regular search engine, then be warned that its search results are bound to feature promotional links. Even though it redirects all search queries to Google.com, the search results that you see have been modified to accommodate additional promotional links that in some cases can redirect to shady websites that host download of potentially unwanted programs adware, and other undesirable software or redirect to scam websites. We imply that by using this hijacker for processing your searches, you are risking your cyber security to be compromised.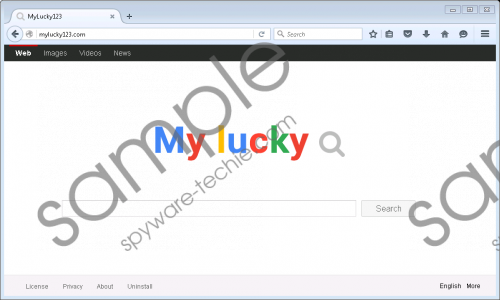 Mylucky123.com screenshot
Scroll down for full removal instructions
We would also like to point out that this hijacker is configured to gather certain information about you and use it for advertising purposes. For starters, it can automatically obtain your IP address and your browsing history as a regular search engine would, but it uses this information to customize the advertising campaign and assign promotional links that match your browsing habits and interests. Also, if you manage to contact its secretive owners and reveal personal information about yourself, then it will also be stored and used. Its Privacy Policy reads "When you explicit provide us with your personal information whether or not on our request such as your name, e-mail and / or address, mylucky123 will save this information." However, there is no way to contact the owners, so we do not know how this is supposed to play out.
As you can see, Mylucky123.com is used to force you to view promotional links and if you click one, then this hijacker's developers get paid, but there is no way of knowing which ad is relevant and, more importantly, safe, so we recommend that you remove it from your PC ASAP. Our malware researchers have made a removal guide to help you get rid of this hijacker. They also recommend that you scan your PC for this hijacker's accompanying browser extension using an anti-malware tool. However, if you know which extension it is, then you can uninstall it manually using our guide. Please leave a comment in the comments section below on whether you were able to delete that extension and what it was called since it is still a mystery.
How to remove this hijacker
Mozilla Firefox
Press Ctrl+Shift+A.
Click Extensions.
Find the malicious browser add-on and click Remove.
Press Alt+T and click Options.
Change the homepage address.
Google Chrome
Press Alt+F.
Click More tools.
Click Extensions and locate the browser add-on.
Click the Remove button.
Then, press Alt+F again.
Select Settings.
Locate the On Startup list and click Set pages.
Change the homepage address and click OK.
Microsoft Internet Explorer
Press Alt+T keys.
Select Internet Options.
Enter a new homepage address in the address line.
Click OK.
In non-techie terms:
Our research has revealed that Mylucky123.com is not a legitimate search engine, but a browser hijacker due to its malicious dissemination tactics. Its purpose is to replace your browser's homepage without your consent and force you to view promotional links in its search results and we think that they can redirect to questionable websites. So, to keep your PC out of harm's way, we suggest that you delete Mylucky123.com.