Do you know what MyHomePage.pro is?
MyHomePage.pro is a shady browser extension for Google Chrome that our cybersecurity experts have classified as a potentially unwanted program. Hence, this extension is not malicious and does not pose a threat to your computer's security. Nevertheless, it is useless because it offers nothing unique and you can get it accidentally and not notice it. Therefore, you might want to remove it. If you want to find out more about this extension, please read this whole article as it contains the most relevant information available.
There are several ways you can get this extension in your browser. Firstly, you can download it on your own terms from the Chrome Web Store. The store promotes this application as a custom start page that includes a secure search engine and links to useful websites. The information provided on the Chrome Web Store says that this extension has more than 10, 000 users worldwide. We want to note that that is not the only way you can get this extension, however, because its creators also use software bundling as a means to get it onto your browser without your knowledge.
Certain software distributing sites make some additional money by bundling freeware with third-party software. The owners of those websites get paid by developers to bundle their programs and browser extensions with featured freeware. As a result, when you install an application, the installer can secretly install an additional program, browser extension or just replace your browser's homepage and/or new tab addresses. One of the reasons we classified MyHomePage.pro as a potentially unwanted program is due to the fact that it is distributed using deceptive methods.
This extension is a product of a company called RCPsoft. This company seems to be a legitimate software developer that has released by other applications that include Uninstaller PRO, OS Cleaner, WinTweaks, and many others. However, MyHomePage.pro stands out as it does not offer its users anything of value and, thus, we regard it as undesirable. Interestingly, you cannot download this extension from RCPsoft, unlike other applications that you can download easily.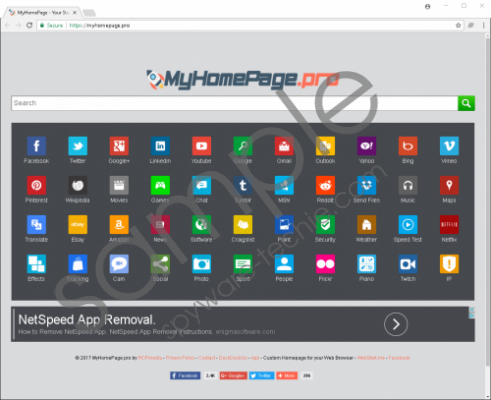 MyHomePage.pro screenshot
Scroll down for full removal instructions
If MyHomePage.pro were to get onto your browser, then it would change the homepage address to MyHomePage.pro. Take note that the name of the extension and the URL of the search engine are the same. The search engine features many icons that are links to promoted websites such as YouTube, Wikipedia, Reddit, Netflix, and so on. The search engine redirects all entered search queries to Duckduckgo.com search engine which prides itself on respecting users' privacy and not collecting information on them. However, MyHomePage.pro might collect information about you. It might obtain information such as your IP address, Internet Service Provider domain name, location, browser version, operating system type and version, and so on. However, we do not think that this information is used for presenting customized search results. Hence, the results you see you get redirected to Duckduckgo.com are unmodified.
While MyHomePage.pro does not seem to pose a threat to your computer's security or privacy, its creators engage in deceptive conduct as they distribute this extension using software bundles set to insert it into your browser without your knowledge or approval. Nevertheless, there can be bundles that allow you to deselect its installation. To remove MyHomePage.pro, you need to go to Google Chrome's settings, locate this extension and click the Remove button. Please see the instructions below for more information. We suggest you get an anti-malware program to prevent extensions such as this from being installed on your browser without your knowledge or consent.
How to remove the unwanted extension

Launch Chrome.
Hold down Alt+F.
Select More tools.
Click Extensions.
Locate MyHomePage.pro
Click Remove.
In non-techie terms:
If you have MyHomePage.pro on your browser, then you should know that its purpose is to replace your browser's homepage and new tab page addresses, and make you use it as a regular search engine. While it does not seem that it shows ads or promotional links that can compromise your computer's security, you ought to remove it because it offers nothing useful. See the instructions above for more information.