Do you know what myGames Start Extension is?
Our research team says that myGames Start Extension is a potentially unwanted application. It means that this browser plug-in is not a direct system security threat, but it could cause certain issues. We would like to point out that it is especially relevant if you did not install this application on your browser willingly. Even if an application is not a direct system security threat, you should not tolerate it when it comes uninvited. Hence, the sooner you remove myGames Start Extension from your browser, the better. For full manual removal instructions, please scroll to the bottom of this description.
Normally, it is common for extension developers to create a plug-in that would be compatible with all the major browsers on the market. However, myGames Start Extension works only on the Chrome browser. It is probably a response to the fact that Chrome happens to be the most widely used browser at the moment. On the other hand, users who do not use Chrome may think that they cannot be affected by myGames Start Extension. While it is true, we have to take into consideration all the distribution methods employed by this plug-in. In some cases, it might come bundled with other freeware applications, and THOSE applications COULD affect browsers other than Chrome.
It is also somewhat complicated to deal with the distribution of this application because there are many channels it can use. First, it can be added to your browser via its official homepage. The website is located at myappline.com. Just like most homepages would, the site introduces you to myGames Start Extension, and it tries to convince that the plug-in is extremely important and necessary. It says that with this extension, "you can search & play free games – all in one convenient place." The plug-in gives you "unlimited access to free games;" it can help you "discover new games" with a "quick and easy search bar."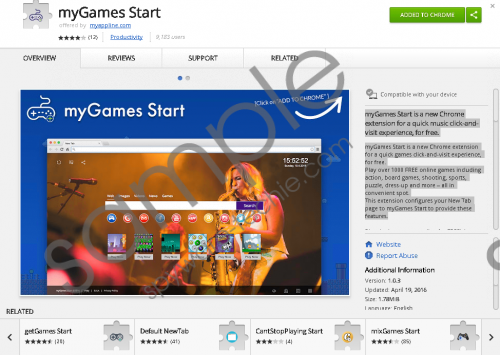 myGames Start Extension screenshot
Scroll down for full removal instructions
So it might seem that if you are an avid online gamer, myGames Start Extension should be useful. After all, wouldn't you want to have all of your games at your fingertips? However, there are side effects of having this extension added to your browser. Not to mention that if it arrived at your computer accidentally, it is not something you should tolerate. Make sure that you are the one who installed all programs running on your system.
The problem we have with this plug-in is that upon the installation, myGames Start Extension will change your new tab settings and your default homepage. It does not modify your default search engine settings, so that is somewhat of a relief. Nevertheless, the fact that the extension tampers with your browser's settings means that it can be rather intrusive. It is true that technically you agree to these changes, but still, there might be a lot more behind this. For instance, it is very likely that this plug-in monitors your online activity.
If that is the case, then it would not be surprising if myGames Start Extension displays commercial advertisements. At first, the ads will be random, but the longer this plug-in remains on your browser, the more customized these ads can get. For instance, it is possible that the extension will employ tracking cookies to collect data on your web browsing habits. It will find out what you like, and then it will be able to generate custom ads. Technically, there is nothing malicious about it, but you have to keep in mind that myGames Start Extension does not review the ad content. Hence, there is a chance that the advertising space could be exploited by criminals to promote their websites.
Keeping such security threats in mind, you will do yourself a favor if you remove myGames Start Extension today. It is not complicated to delete the plug-in, and you can actually do it via browser's settings menu. However, we will show you to how to get rid of it via your system's directories. If you do not wish to deal with software removal on your own, you can acquire a security tool that will delete all the unwanted applications for you automatically. At the same time, it will protect you from similar intruders in the future.
How to Remove myGames Start Extension
Press Win+R and the Run prompt will open.
Type %LocalAppData% into the Open box and click OK.
Go to Google\Chrome\User Data\Default\Extensions.
Delete the bhkkmmnbelbkgjbdieomdangdbajmkjl folder.
Go back to the Default folder.
Find and delete the Preferences, Secure Preferences, and Web Data files.
In non-techie terms:
myGames Start Extension is a browser plug-in that is supposed to provide you with the best information on online gaming. However, this extension may come to your computer uninvited, and then it might cause a few problems. The bottom line is that if you did not want to add this plug-in to your browser, it would be for the best to remove myGames Start Extension. If you think you might have more unwanted apps on-board, be sure to scan your computer with the SpyHunter free scanner.