Do you know what MyDigitalCalendar Toolbar is?
If you consider yourself rather forgetful and decide to try out MyDigitalCalendar Toolbar, we advise you better no to get too attached to it. The application was categorized as a potentially unwanted program, which means it not only has undesirable qualities but also could be dangerous to the system. This is why our specialists recommend the software's deletion, and as a result, we are adding a removal guide below the article. Nonetheless, if you want to gather more information about this potentially unwanted program before deciding what to do with it, there is no need to rush since you can continue reading the text. By doing so, users may find out such useful details like how to avoid similar threats in the future.
For starters, we can tell you that this suspicious toolbar was created by a company called Mindspark Interactive Network, Inc. This publisher is known to us as it has released more toolbars and other different applications that are considered to be not only unwanted but also potentially dangerous. Therefore, no matter how harmless or useful the potentially unwanted program may appear to be, it would be unwise to trust Mindspark Interactive Network, Inc. created software.
Furthermore, MyDigitalCalendar Toolbar is available through its official website known as mydigitalcalendar.com/index.html, but our researchers believe it is not the only way the application is distributed. For example, it could travel with bundled software installers or might be advertised through suspicious pop-up advertisements. Thus, to keep the system clean from threats alike, our specialist recommend avoiding clicking questionable ads and stay away from malicious web pages.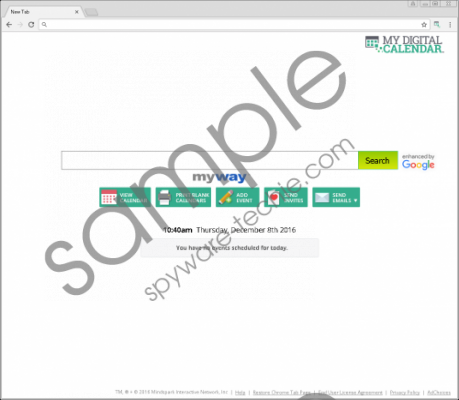 MyDigitalCalendar Toolbar screenshot
Scroll down for full removal instructions
Plus, it would be a smart idea to be more careful during the installation process since you have to be more attentive to be able to deselect suggestions you do not want. Not to mention, the installer itself should be downloaded from a legitimate website as well, because various file-sharing sites often bundle setup files with untrustworthy software, so there is more chance to receive unreliable applications accidentally. Additionally, we could suggest using a legitimate antimalware tool for users who want to protect the system better.
Moreover, we also found out that when users install MyDigitalCalendar Toolbar, the threat might hijack their browsers by replacing homepage or new tab page with the software's search engine. If you take a look at it, you should find particular tools below the search bar that may allow you to view the calendar, print blank calendars, add an event or a reminder, etc. These features may seem rather useful for users who like making daily schedules or placing reminders. Still, the search engine itself might be not so helpful.
According to our researchers, the potentially unwanted application's search engine could be modified. It means the displayed results might be altered by the software as there could be suspicious third-party advertisements among them. Because of this, it is possible you may encounter even malicious ads that could lead you to web pages containing malware (e.g. viruses, Trojans, and so on) or advertising threats alike (e.g. adware, browser hijackers, and other). Obviously, we cannot tell users where such ads might redirect them since they may come from anywhere and so there could be various risks. Of course. If you do not want to keep using such an unreliable program as MyDigitalCalendar Toolbar, you can get rid of it right away.
The potentially unwanted program can be erased manually if users delete it from their browsers. To complete this task, you could take a look at the removal guide placed below and erase the application's extension accordingly. On the other hand, if it appears to be more complicated than you thought, you can get a reputable antimalware tool and let it take care of MyDigitalCalendar Toolbar. Since the tool's scanning feature can detect multiple threats at the same time, you could delete not only the unwanted toolbar but other suspicious software too.
Eliminate MyDigitalCalendar Toolbar
Google Chrome
Open the File Explorer (press Windows Key+E).
Navigate to the listed directories separately:
%LOCALAPPDATA%\Google\Chrome\User Data\[PROFILE]\Extensions
%LOCALAPPDATA%\Google\Chrome\User Data\[PROFILE]\Local Extension Settings
%LOCALAPPDATA%\Google\Chrome\User Data\[PROFILE]\Sync Extension Settings
Look for folders called jcnijlipdlfgjojinphboifjbedkkjpk.
Select folders titled as jcnijlipdlfgjojinphboifjbedkkjpk and press Shift+Delete to erase them permanently.
Mozilla Firefox
Press Windows Key+E.
Go to the following path: %APPDATA%\Mozilla\Firefox\Profiles\[Unique Profile]\extensions
Search for data called _isMembers_@free.mydigitalcalendar.com.
Select the file titled as _isMembers_@free.mydigitalcalendar.com and press Shift+Delete.
Delete MyDigitalCalendar Toolbar from Internet Explorer
Windows 8 & Windows 10
Press Windows Key+R.
Insert Control Panel and press OK.
Select Uninstall a program.
Mark MyDigitalCalendar Internet Explorer Homepage and New Tab and choose Uninstall.
Windows Vista/Windows 7/Windows XP
Launch Control Panel once you open the Start menu.
Select Uninstall a program or Add or Remove Programs (for Windows XP).
Pick the potentially unwanted program and press Uninstall.
In non-techie terms:
MyDigitalCalendar Toolbar is yet another suspicious application created by Mindspark Interactive Network, Inc. If you accidentally installed it on the computer, we would advise you to get rid of it as soon as possible. The threat may have useful features, but while using it you could encounter potentially dangerous third-party content, and it could endanger the system. Thus, we strongly advise to look for more reliable application with such features and eliminate the potentially unwanted program at once. To erase it manually follow the removal guide located above or download a reputable antimalware tool.