Do you know what My99tab.com is?
Browser hijackers are infamous for causing extreme annoyance and frustration. One such application currently roams the web, and it goes by the name of My99tab.com. Thus, it is quite natural that we advise you to avoid it at all costs. If, unfortunately, you already have it active on your PC, be sure to execute its complete removal without second thoughts. Just like any other browser hijacker, this one makes changes to default settings of a web browser as soon as it gains access to the operating system. Our researchers have discovered that this intrusive application is fully compatible with major browsers such as Google Chrome, Internet Explorer, and Mozilla Firefox; thus being aware of its existence is critical. To fully understand why we urge you to delete My99tab.com without any hesitation, make sure to read the rest of this article. Below we also include detailed removal instructions that you should use to get rid of this hijacker in a quick and easy manner.
My99tab.com starts doing its dirty work as soon as it gains full access to your operating system. It silently and without any authorization inserts its devious strings to files and registry entries associated with browser's default settings. Once that is done, you will notice a sudden change of your default homepage. Unfortunately, the dubious modification will only have a profoundly negative effect on the way you experience the web. That is so because you will not have a choice but to use a suspicious third-party website as your default homepage at all times whether you want that or not. It should be quite obvious that browsing the web the way you are used to will be out of the question. Unfortunately, there is something much more alarming about this modification than the annoyance it causes. Upon further analysis, our research team has discovered that the search box on a newly appointed homepage could present you with results that host suspicious redirect links. By clicking on such a link, you risk of ending up on devious third-party websites. In some instances, you could encounter such web pages that just entering them could trigger a remote installation of some malicious program. In other cases, you could be redirected to fake online shops which are created by cyber crooks for a single reason - to steal your credit card data. As you can see My99tab.com is not only invasive but dangerous as well and that should not be tolerated. Make sure to execute its complete removal by using the comprehensive guide below.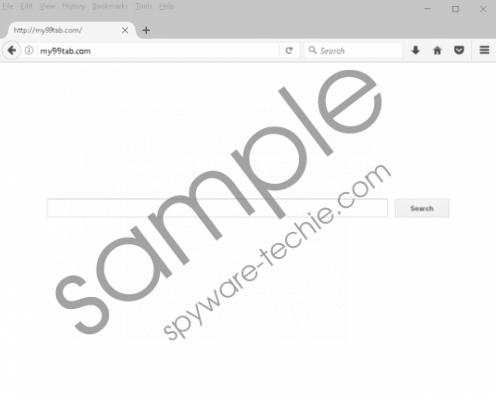 My99tab.com screenshot
Scroll down for full removal instructions
If you think of yourself as a security conscious user, you must take a few simple precautionary steps to improve your overall virtual security. Firstly, we highly advise you to practice safe browsing habits since My99tab.com like a lot of other dubious programs is spread in devious ways. In most cases, suspicious programs are hosted on unauthorized third-party download websites at all times; thus, we highly advise you to refrain from all such sites at all costs. Also, we urge users to pay their utmost attention to every single step of an installation process because you might come across a chance to cancel the installation of some undesirable application. Furthermore, keep in mind that malware developers often use manipulative and otherwise misleading marketing techniques to trick users into downloading and installing their program without fully understanding how it actually functions. Therefore, make sure to always learn as much as possible about an application that you want to have active on your PC before even obtaining it. While all of this will significantly improve your virtual security, you must know that you also need to have a reliable antimalware tool since to have a fully secure operating system at all times.
It should be more than obvious that a complete removal of My99tab.com is a must. Below we provide detailed instructions that you should follow with care. It is crucial to do so because a mistake during it could have undesirable outcomes. For example, leftovers of My99tab.com might be used to restore it without your knowledge or consent. To avoid finding yourself in such a situation, make sure to perform an in-depth analysis of your PC for anything associated with My99tab.com. Such analysis must be executed as soon as you are done with the instructions below; this way you will be sure that the termination of this hijacker has been successful.
How to remove My99tab.com from your PC
Open the File Explorer.
Go to C:\Users\(your username)\AppData\Local\Google\Chrome\User Data\Default.
Select and remove files entitled Preferences, Secure Preferences, and Web Data.
Go to C:\Users\(your username)\AppData\Roaming\Mozilla\Firefox\Profiles\(unique Mozilla profile ID).
Select a file called prefs.js and tap Delete on your keyboard.
Click the Windows button.
Type regedit into a search box and then tap Enter on your keyboard.
Go to to HKEY_CURRENT_USER\Software\Microsoft\Internet Explorer\Main.
Right-click a registry value entitled Start Page and select Modify.
Replace the unwanted URL with a new one and then click OK.
Right-click your Recycle Bin and select Empty Recycle Bin.
In non-techie terms:
Do not worry if you find manual removal too complicated. Researchers at our internal labs have crafted an alternative removal guide. By following the instructions that we present below you will be able to delete My99tab.com in a fully automated manner.