Do you know what My PC Repair 2018 is?
My PC Repair 2018 is a system optimization tool that is supposed to clean your Windows Registry. This program technically deletes unnecessary registry entries and, consequently, improves your system's performances. However, security experts also say that the application might be potentially unwanted due to its distribution methods. It is perfectly fine if you downloaded and installed this program on your own, but if it popped into your screen unexpectedly, you should consider removing My PC Repair 2018 from your system. It would also be a good idea to run a full system scan with a security tool because there might be more unwanted programs running on your PC.
Let us find out more about this application by visiting its official website. The page is located at mypcspeeduputils.com, and it also hosts other potentially unwanted program called Clean PC Pro 2018, which is a system optimization tool. So it is more than obvious that both programs are related. Also, according to the digital signature (Tuneup PC Tool Ltd.) on the program's setup, My PC Repair 2018 is associated with Win Boost Pro 2018, Dr. Clean Pro 2018, 1 Click SystemMechanic, and many other applications.
Back to the official homepage, we can see that with My PC Repair 2018, you should be able to "clean optimize & speed up your PC now," as "My PC Repair 2018 is designed and tested with utmost care to keep your PCs running smooth, fast and error free." The homepage also reminds you that "to fix these, you need to purchase the activation key," so the program is not available for free. You can also run the system scan with the trial version, but if you want to use the application, you will have to pay around $25 for the full version.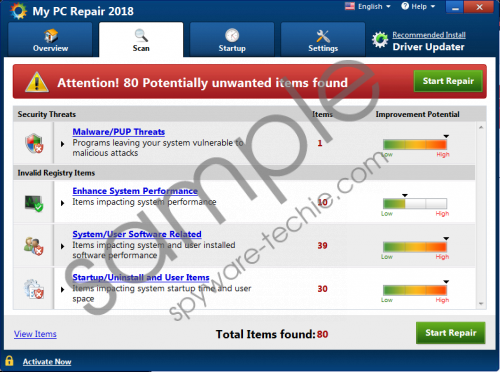 My Pc Repair 2018 screenshot
Scroll down for full removal instructions
Perhaps it does not sound like a bad deal, especially when it says that My PC Repair 2018 is "trusted by millions of users." The information provided on the homepage says that this application "is the world's most liked and preference PC protection utility! The most efficient and simple-to-use tool for the users to quickly optimize and get a clean and faster PC." Here you would probably stop and think: "How come I haven't heard about this app before if it's so popular?" Well, maybe because the people behind the website clearly overdid with the promotional lingo?
In fact, it is far more likely that My PC Repair 2018 more often reaches users through secondary distribution routes, rather than the main homepage. The secondary distribution routes include software bundles and third-party pop-ups. Software bundles are often available at file-sharing websites. When users download one application from such a website, they tend to overlook the fact that the third-party installer might bundle several other apps with it. Technically, it should be possible to deselect the unwanted applications during the installation process, but if users fail to read all the important steps and just hurry through the setup, My PC Repair 2018 and other undesirable applications enter the target systems.
We do not have data that would suggest this application displays fake scan results, so it is very unlikely that it would want to scam you and trick you into paying for a product that cannot deliver. On the other hand, let us a not forget that one of the most important things about programs is whether you want them or not. And if you did not even plan to have My PC Repair 2018 on-board, there is no need to tolerate it.
If you decide to remove My PC Repair 2018 from your system, you can follow the manual removal instructions below. Please note that you will also have to remove several registry entries that remain on the system even if you uninstall the application.
It is very annoying, but it is necessary to ensure that your computer is clean again. Of course, you can also remove those files with a licensed antispyware tool if you choose to acquire one. However, please remember that a security application is not the only thing that can protect your computer from harm. You should also review your web browsing habits because the websites you visit are directly associated with the unwanted and potentially harmful apps that can be found on your PC.
How to Delete My PC Repair 2018
Windows 10 & Windows 8.1
Press Win+R and the Run prompt will open.
Type Control Panel into the Open box. Press OK.
Navigate to Uninstall a program and delete My PC Repair 2018.
Windows Vista & Windows 7
Click the Start menu icon and go to Control Panel.
Open Uninstall a program and remove the application.
Windows XP
Open the Start menu and select Control Panel.
Double-click Add or remove programs and remove the app.
Remove the Leftover Files
Press Win+R and enter regedit. Press OK.
Navigate to HKEY_LOCAL_MACHINE\SOFTWARE.
Remove these keys:
TXktUEMtUmVwYWlyLTIwMTg=
scd-pr
Exit Registry Editor and run a full PC scan.
In non-techie terms:
My PC Repair 2018 is a registry cleaner that is supposed to improve your system's performance. On the other hand, this program might enter your system uninvited, and that is definitely something any user would want to avoid. Do not hesitate to uninstall My PC Repair 2018 if you did not want to have this application, and be sure to check your system for potential threats that could have entered it along the way. Your PC's security should be one of your top priorities!