Do you know what My Movie Finder is?
My Movie Finder might seem like a great assistant if you are looking for a tool that would provide you with movie-related information. It is meant to give you access to movie reviews, screening times, and ticket information. To fulfill its promises, the extension offers easy-access links to fandango.com, imdb.com, amctheatres.com, and rottentomatoes.com, as well as social networking sites, such as facebook.com and instagram.com. This is not why we classify this extension as a potentially unwanted program (PUP). The reason this extension came onto the radar is because it can change Google Chrome settings. If you install the add-on, your New Tab and, potentially, homepage are modified to represent my-movie-finder.com. If you are not sure why this is the reason you should remove My Movie Finder, you should continue reading this report. If the reasons are clear to you, scroll down to find a guide that shows how to delete the add-on.
You can download the suspicious extension from chrome.google.com/webstore/detail/my-movie-finder/ddhhnidifdcbpbckpjllplklgbimjpfb. Here, it is introduced to you as a "great new tab extension," and you are informed that the add-on can help you access and navigate movie review sites, as well as "top" email and social networking websites. If you click the "Add to Chrome" button, you are shown a pop-up that asks to confirm the installation. This pop-up also warns that the extension can read and change data, hijack the New Tab, manage your downloads, and communicate with unknown sites. If you install the add-on regardless of the warnings, you are introduced to my-movie-finder.com/newTab/newTab.html. Although you might choose to focus on the easy-access links that are represented via the interface of this potentially unwanted program – and they appear to be authentic and harmless – the main feature of this threat, in fact, is its search tool. In the center of the page, My Movie Finder introduces you to a search field, and we do not recommend interacting with it.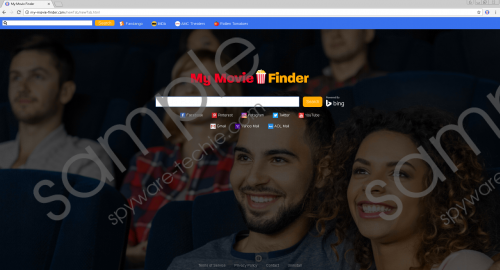 My Movie Finder screenshot
Scroll down for full removal instructions
As you can see, a tag suggesting that the search tool is "Powered by Bing" is attached to the search dialog box. Unsurprisingly, your searches are redirected to bing.com/search, and although the results might appear to be normal, they could be modified. Our research team warns that sponsored content by unknown third parties could be injected along with normal links, and so interacting with all results could be tricky. Unfortunately, if the added links were malicious – and we cannot refute this option – interacting with these results could also be dangerous. This is the main reason our research team recommends deleting My Movie Finder. Also, although the extension offers links to real websites, identifying it as a beneficial tool would be a stretch. Are the links shown via my-movie-finder.com/newTab/newTab.html exclusive? Of course, they are not, and you can add them to your bookmarks bar. That is what we advise doing, but, before that, you want to remove My Movie Finder.
It takes no time at all to delete My Movie Finder from the Google Chrome web browser. All you need to do is access the Extensions menu and click the recycle bin that represents the undesirable add-on. Of course, you do not have to erase the PUP on your own. You can leave this task for an anti-malware program, which we suggest installing for two reasons. First of all, it will automatically erase existing threats, which can be very beneficial if the PUP was installed along with malware. Second, it will enable complete protection, which means that you will not need to face malicious threats and PUPs again.
Remove My Movie Finder from Google Chrome
Open the browser and tap keys Alt+F.
Select More tools and then Extensions.
Click the recycle bin next to the extension you want to get rid of.
Select Remove and then restart the browser.
In non-techie terms:
Our research team strongly recommends deleting My Movie Finder, not because it shows easy-access links to legitimate websites via my-movie-finder.com/newTab/newTab.html, but because its search service is highly questionable. According to our research team, the results can be modified, in which case, interacting with them could be risky. It is not clear how the creator of the PUP could use this power or whose links it would choose to promote. If you wish to remove My Movie manually, the guide above will show you the way. If other threats exist, think if you can erase them yourself as well. It might be best to install an anti-malware program to have all threats erased automatically.