Do you know what MVPlayer is?
MVPlayer is a totally worthless application that claims to be Most Valuable Player of media players, but it delivers nothing apart from third-party ads to your computer screen. Our researchers have tested this questionable program in our internal lab and have classified it as adware. Contrary to what this application promotes about itself on its website, it does not seem to be a working player. Most probably it is simply a money maker for the creators as an ad-supported program. It generates revenue from the users' clicks on the advertisements shown by this adware. That means that the more you click, the more money you make for potential schemers. But let us not forget about the potential dangers that are involved. If you delete MVPlayer, you definitely make the right move towards a cleaner and safer system. Let us explain this in more details.
Most probably not too many people find the official website unless they type in the URL in the address bar of their browsers, which is downloadmvplayer.com. If you search for a media player application, this one might be the zillionth on the last pages. However, if you search the name itself, you will know right away that downloading this app may not be a good idea simply by looking at the titles of the results. That is why it is so important to research the software you want to download. You could prevent this way a lot of malware infections from landing on your computer.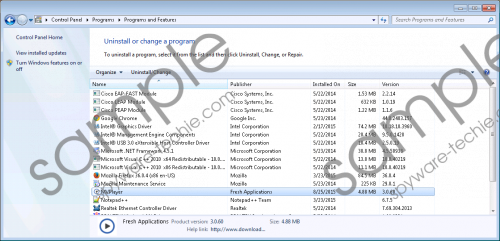 MVPlayer screenshot
Scroll down for full removal instructions
But this is not the only way MVPlayer can show up on your system. Unfortunately, it can also sneak onto your computer in a freeware bundle. The bad news about bundles is that they may be filled with malware infections. The mistake most people make is that they do not pay attention to the pages of the installation wizard or they do not read the agreement carefully. Most of the time, you can actually opt out of the installation of useless or harmful additional applications. It is worth going for the Custom installation option or look for checkboxes in the installation wizard. If you miss this step, you can end up with a bunch of infections on your computer and removing MVPlayer will not solve all your problems.
Our researchers have noticed that this adware program is identical to Finance Alert, Celebrity Alert, and LightsOff. MVPlayer is supposed to be a media player that supports hundreds of file formats, including video and audio, but somehow it does not actually play anything. It does not install add-ons in the browsers, but uses a service instead. We cannot give you the name of the executable file as it keeps changing the name randomly. Instead of playing media files this app keeps showing third-party commercials. You need to know that these ads might be unsafe to click on. It is possible to get redirected to unreliable websites. Do you know what might happen if you find yourself on a fake online shopping site? You may disclose precious details about yourself or your bank account. Do we need to go on to tell you what might happen with that information if criminals have it?
We hope that it is clear now that having this adware on your computer may be detrimental to your system's health and security. Fortunately, you can remove MVPlayer quite easily. Please follow our instructions below if you are unfamiliar with uninstalling applications via Control Panel. Please remember that you can usually protect your computer from malware if you think twice what sites you visit and what links you click on. Of course, there is a better and safer way to safeguard your computer if you install a security tool.
MVPlayer Removal from Windows
Windows XP
Open the Start menu and select Control Panel.
Access Add or Remove Programs.
Select the application and click Remove.
Windows Vista/Windows 7
Simultaneously tap Win+R and enter control panel. Click OK.
Open Uninstall a program.
Select the application and click Uninstall.
Windows 8/Windows 8.1/Windows 10
Tap Win+I and choose Control Panel.
Open Uninstall a program.
Select the application and click Uninstall.
In non-techie terms:
MVPlayer is a useless and potentially harmful ad-supported program that you should remove from your computer if you want to avoid system security risks. This application does not even function as a media player; however, it does show third-party advertisements. Clicking on those ads might redirect you to unsafe websites. Try to avoid the next malware attack by staying away from suspicious websites.