Do you know what MusicTab Newtab is?
MusicTab Newtab is supposed to help you access your "favorite radio stations online right in your browser new tab." It is suggested that this PUP – potentially unwanted program – allows you to select from 60,000 different radio stations, and it can classify them according to genre, songs, and artists. Although the tool might seem pretty great, there are several reasons why our research team recommends deleting it from Google Chrome and Mozilla Firefox web browsers, which, at the time of research, were the only ones compatible with the PUP. If you already know everything, and you simply want to remove MusicTab Newtab as quickly as possible, you need to scroll down below to find a guide. If you have questions and if you are not sure what to do, please keep reading.
According to our research team, MusicTab Newtab was created by Tightrope Interactive, Inc., and this company has set up musictab.org to introduce Chrome and Firefox users to this suspicious extension. Chrome users can also download it from the trustworthy Chrome web store (you can find the installer at chrome.google.com/webstore/detail/musictab-newtab-extension/mhgndhaieeiclepicigplimlkcnnlfpe), but keep in mind that third-party installers could be used too. If you downloaded MusicTab Newtab along with unfamiliar programs or if you do not remember downloading this PUP at all, it is important that you inspect your operating system. You do not need to do that manually. Instead, install a malware scanner you can trust, and this tool will let you know quickly if there are any threats that require removal. Hopefully, you find that the PUP is the only threat you have to deal with.
Similarly to MyOfficeTab, MusicTab Newtab is not all about assisting Chrome and Firefox users. It was found that these potentially unwanted programs showcase modified search results via the popular Yahoo Search engine. What does that mean? That means that the PUP might have been built for the sole purpose of showcasing ads. Once this PUP is installed, it should replace the default search provider and homepage (on Chrome only) with newtab.getmusictab.org/113/default/index.html. If you enter search keywords into the search field, you will be redirected to a well-known search engine, but the results you see will be modified. This is the doing of the PUP, and if you do not want to be exposed to potentially unreliable links, you need to think about deleting MusicTab Newtab. So, even if you enjoy access to Pandora, YouTube, Spotify, SoundCloud, and similar sites, you need to put your virtual security first. It is most likely that you will need to delete the PUP if you live in the US, the UK, or Iran.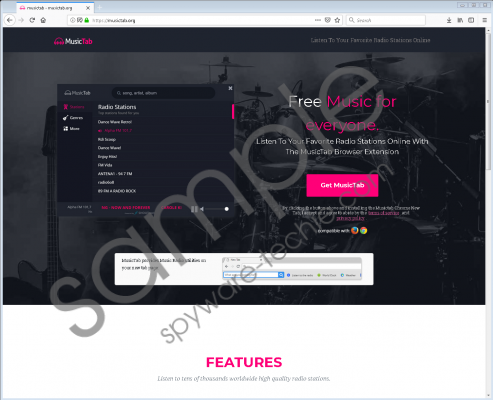 MusicTab Newtab screenshot
Scroll down for full removal instructions
Do other suspicious, potentially unwanted programs exist on your computer and browsers? If they do, you might want to have all threats deleted at once. You can have MusicTab Newtab deleted along with everything else that deserves it by installing anti-malware software. Since this software can also help you keep your operating system protected in the future, we strongly recommend implementing it as soon as possible. Another option is to remove MusicTab Newtab manually. That is not a complicated task, and it is perfect for those who find nothing else but the PUP. That being said, your operating system and browsers will not become 100% secure if you delete every malicious or unreliable piece of software. To guarantee security, you need to implement the right security software.
Remove MusicTab Newtab
Mozilla Firefox
Open the browser and tap keys Ctrl+Shift+A.
In the Extensions list find and Remove the unwanted extension.
Tap keys Ctrl+Shift+Delete.
Select the time range, choose boxes, and click Clear Now.
Google Chrome
Open the browser and tap keys Alt+F.
In the More tools menu click Extensions.
Find and Remove the unwanted extension.
Tap keys Ctrl+Shift+Delete.
Select the time range, choose boxes, and click Clear data.
In non-techie terms:
MusicTab Newtab offers a seemingly great service, and because it is free to install, many Chrome and Firefox users are likely to go for it. Unfortunately, this is a potentially unwanted program, and although it presents links to legitimate websites, it also can hijack your browser, change default search provider and homepage settings, redirect your search queries, as well as show potentially unreliable modified search results. These are the reason we recommend deleting MusicTab Newtab from your web browsers. You can do that using the easy-to-follow instructions above, or you can install software that will take care of it all automatically. Although that might seem unnecessary in your case, keep in mind that if this PUP might not be the only questionable program. Also, there are plenty of real infections that could try to invade your operating system and affect browsers.