Do you know what musicFriendly Search is?
Our computer security specialists confirm that musicFriendly Search is a potentially unwanted program. Apparently, it may change some browser preferences and encourage you to use an unreliable search engine. So far the application works only on Google Chrome, and if you continue reading our article, we will explain how it could appear on our browser. At the end of the report, our readers will also find a removal guide showing how to get rid of musicFriendly Search step by step. The reason for placing such instructions is that we do not think it would be wise to take any chances with this potentially unwanted program when there are more reliable alternatives to search for music, but we will discuss this further in the rest of our article.
The extension can be downloaded from chrome.google.com/webstore and its developer's official site called friendlyappz.com. What's more, our computer security specialists say it could travel bundled with other potentially unwanted programs, adware, browser hijackers, and so on too. Therefore, if you never read what is written on the setup wizard, you could receive musicFriendly Search without even realizing it. In which case, we ought to recommend being more attentive when installing new programs. Plus, it would be wise to do a little research before deciding whether it is safe to install the chosen tool. Not to mention, it would be safer to download software installers not from torrent or other file-sharing web pages, but from legitimate websites that can be trusted.
One way of the other, if musicFriendly Search is now on your Google Chrome, there is something you should know about it. First of all, its offered search engine (music.eanswers.com/go/?category=web&s=ufds&vert=music&q=u) may redirect to a custom version of search.yahoo.com. It means the extension might be able to inject additional content among the results, such as third-party advertising, e.g., annoying pop-ups, banners, sponsored links, etc. Sadly, since the potentially unwanted program's creators do not take responsibility for any third-party content, this might mean if the tool displays any ads it is possible they will not be reviewed to ensure their safety for the user. In other words, there is a possibility some of the ads could promote unreliable or potentially dangerous applications, scam web pages, or even malicious websites.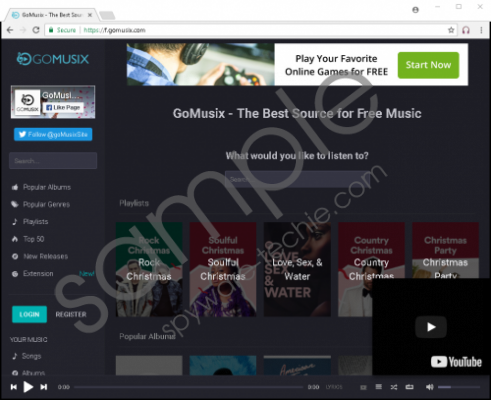 musicFriendly Search screenshot
Scroll down for full removal instructions
If you do not like the idea of accidentally encountering potentially dangerous advertising content from unknown third parties we recommend deleting musicFriendly Search with no hesitation. Instead of it, you can easily find songs or information related to music with any reputable search engine (e.g., search.yahoo.com, google.com, or bing.com); all you have to do is use the right keywords. Also, you can find and listen to songs free of charge via YouTube.
Users who decide to eliminate the potentially unwanted program manually should have a look at the removal guide available a bit below this article. It will explain what to do to access the Google Chrome's Extensions menu and remove the unwanted extension. Another way would be to simply download a reputable antimalware tool, set t to scan the system and then erase musicFriendly Search with other possibly detected threats by merely clicking the deletion button.
Delete musicFriendly Search
Press ALT+F.
Select Settings.
Click More tools.
Select Extensions.
Look for musicFriendly Search.
Click the trash bin button near it.
Press Remove.
In non-techie terms:
musicFriendly Search might look like a handy tool that can help you find songs you like in no time, but our researchers report it might be risky. It is because the extension could provide users with modified search results containing additional advertising content from unknown third parties. We do not say the application will necessarily display such content or that it will be malicious, but there is a possibility it could be and given there are safer web pages to search for music, we do not think it is worth to take any chances with this potentially unwanted program. If you feel this way too, we encourage you not to waste any time with this extension and eliminate it with the removal guide available a bit above this text or with a reputable antimalware tool of your preferences.