Do you know what musicFinder Search is?
musicFinder Search is a piece of software compatible with the Google Chrome browser. It has two sources it can be downloaded directly from: the official Chrome Web Store and http://www.myappzcenter.com/. Both sources present the musicFinder Search extension as an extremely beneficial piece of software that allows users to search for online music straight from the browser's address bar. Yes, you could enable the search feature by typing m in the URL bar and pressing TAB on your keyboard. Unfortunately, this does not make it fully reliable software. Specialists have still decided to categorize it as a potentially unwanted program. Such programs are not malicious, but many users still find them undesirable. If you consider musicFinder Search undesirable software too, delete it without mercy. It is the only way to undo the changes it has applied to your browsers as well. We will help you to delete it, but before we talk about its removal, we want to present this piece of software to you. We hope that you will change your opinion about it after reading this article and thus remove it fully.
Once users install musicFinder Search on their computers/it affects users' browsers without their knowledge, it changes the default search tool immediately. Because of this, users' all searches are redirected through http://search.myappzcenter.com/search/?category=web before they are presented with Yahoo! search results. Unfortunately, even though Yahoo! is considered a reliable search provider, you might see some modified search results. It is very likely that musicFinder Search will replace some ordinary search results with sponsored links. In the worst-case scenario, they might redirect you to untrustworthy pages, so users with the musicFinder Search extension active on their computers should perform web searches more carefully. Of course, it would be best to remove this potentially unwanted program completely and then set a new reliable search tool on your browser to perform web searches safely. Yes, musicFinder Search will enable you to open https://www.gomusix.com and search for music there by simply entering m and tapping TAB on your computer, but, believe us, its drawbacks outweigh its benefits.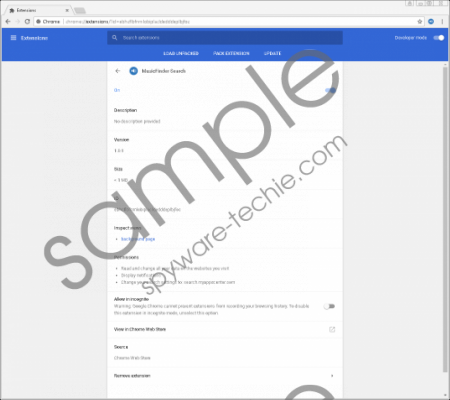 musicFinder Search screenshot
Scroll down for full removal instructions
You should remove musicFinder Search also if you do not want it to record any information automatically. Potentially unwanted applications can get certain non-personally identifiable details about users without their permission, for example, demographic information. It does not mean that they cannot record any personally-identifiable information. As can be found in the Privacy Policy document belonging to musicFinder Search, it might "collect your name, email address, country of origin, and, if you choose, your nickname, telephone number, website, company, and title." All these details might be recorded only if you provide them consciously. Needless to say, you should keep all this information to yourself.
musicFinder Search acts the same in all the cases no matter users download and install it from its official website, or it gets onto their computers in a different way. Talking about these alternative distribution methods, this potentially unwanted program might also be spread bundled with other programs so that it could be installed on users' PCs next to other applications unnoticed. On top of that, specialists say that users might find advertisements promoting this Google Chrome browser extension on third-party websites. Some users click on these ads consciously to get the "beneficial" program, whereas others click on them accidentally and agree with the installation of this potentially unwanted program without even realizing that. If you are not a very careful computer user, it does not mean that you cannot protect your system against suspicious software – enable a security application on your system. It will not allow any new untrustworthy applications to enter your computer.
It is possible to delete musicFinder Search via the add-ons manager, so if you have not found it beneficial, or simply cannot understand why you have it installed on your PC, you should take action today. Below-provided manual removal instructions will help you to eliminate this potentially unwanted application. Do not forget that this can be done automatically too. It is up to you how to get rid of it.
Delete musicFinder Search
Google Chrome
Open Google Chrome.
Tap Alt+F.
Select More tools.
Click Extensions.
Select the musicFinder Search extension.
Click the Trash button.
In non-techie terms:
musicFinder Search is presented as beneficial piece of software that allows users to search for free music straight from the browser's address bar. We have to admit that it really seems to be beneficial software at first glance. Unfortunately, the decent-looking appearance is not everything. Therefore, if you have not installed it on the system yourself, you should get rid of it mercilessly. You will not lose anything and, on top of that, you could set a new trustworthy search provider you like.