Do you know what MusicBox Live Extension is?
MusicBox Live Extension is a browser plug-in that promises to help users find their favorite songs and artists. This extension looks like a useful addition to your browser, but computer security experts say it could also be quite intrusive. The extension might collect certain information on your web browsing habits, and then share it with unreliable third parties. It would be for the best to remove MusicBox Live Extension from your system because there is no guarantee that the plug-in is 100% safe to use. Before you know it, it could be exploited by a malevolent third-party.
This extension works only on the Chrome browser. Like most of the Chrome extension that we have to discuss because of security concerns, MusicBox Live Extension is a legal application that can be found on several websites. Although the official homepage via musicboxlive.byinmind.com is down at the moment of writing, MusicBox Live Extension is still available at the Chrome Web Store. When a program is out in the open like this, it would be hard to claim that it is a malicious infection. That said, our research team is eager to classify it as a browser hijacker because it modifies your browser's settings.
To tell you the truth, the application does not inform you about all the changes it might inflict on your browser upon the installation. When we add MusicBox Live Extension to Chrome, we only see the usual pop-up that says the following:
Add "MusicBox Live"?

It can:
Read and change all your data on the websites you visit
Replace the page you see when opening a new tab
Manage your apps, extensions, and themes
It does not say anywhere that the extension can modify your search engine, but the fact that it can "replace the page you see when opening a new tab," should be enough of a proof that the application is rather intrusive. At the same time, it displays the notification that informs you about the things it can do, so in a sense, you agree to add MusicBox Live Extension to your browser knowing all the potential consequences. Unless, of course, you do not bother reading these pop-ups. Either way, the extension does not force anyone to install it.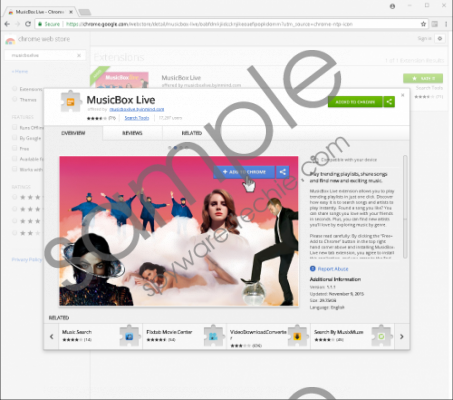 MusicBox Live Extension screenshot
Scroll down for full removal instructions
What does the Chrome Web Store have to say about it though? The information on the extension's page suggests that this plug-in "allows you to play trending playlists in just one click." You should also be able to "discover how easy it is to search songs and artists to play instantly." If you find a song you like, you can "share songs you love with your friends in seconds. Plus, you can find new artists you'll love by exploring music by genre."
It sounds like MusicBox Live Extension should function as your regular music app. If you are using a major music application, the need to have this extension is clearly questionable. What's more, it is very likely that this extension employs third-party sources to provide you with that music-related information.
On top of that, the extension also changes your new tab settings and constantly redirects your searches through musicbox-live.com. However, the search page does not work, and you might end up getting a lot of errors instead.
So it is rather doubtful whether you need to keep this extension on your browser. It would be a lot better if you used a reliable music application that can provide you with licensed songs from your favorite artists. Not to mention that you would not have to deal with third-party advertisements and you would avoid visiting unreliable third-party websites.
You can delete MusicBox Live Extension through your browser's settings. There might be more potential threats installed, especially if this extension came bundled with freeware, so you will do yourself a favor if you scan your computer with the SpyHunter free scanner.
If you find more unwanted applications, you should be able to remove them all manually. On the other hand, if you do not want to deal with it on your own, get yourself a powerful antispyware application that will terminate the unwanted apps automatically. At the same time, you will be able to protect your system against similar intruders in the future.
How to Remove MusicBox Live Extension
Open your Chrome browser.
Press Alt+F and click More tools.
Select Extensions.
Remove MusicBox Live Extension from the list.
In non-techie terms:
MusicBox Live Extension is not a dangerous computer security threat, but it still should be treated with caution. This extension might redirect you to unfamiliar websites that are associated with online marketing schemes. If you did not intend to have this plug-in added to your browser, please delete MusicBox Live Extension immediately. If you encounter any difficulty while trying to terminate this application, do not hesitate to leave us a question in the comment box.