Do you know what Music Center Search is?
Our Internet security experts have found that Music Center Search that gen be installed on your PC secretly as it is promoted on various torrent and other download sites. While this application can provide you with the features it states to provide, it is still a potentially unwanted program because its creators use dishonest tactics to get it onto your computer. If you got it accidently, then we invite you to read this whole article and consider removing if you got it accidentally. We are going to discuss things such as where this program comes from, what it does, and how you can get rid of it from your PC safely. Please continue reading to find out more.
Music Center Search is owned by PlayMediaCenter, and Internet website at Playmediacenter.com. It seems that the people who set up this website have also created this program. We cannot call PlayMediaCenter because it does not say that it is a company. Its PO Box is located in Atlanta, Georgia, USA. However, the location of the company (if it could be called that) is anyone's guess. Hence, Music Center Search was created by a questionable entity. Note that, when you have installed this program, it will force open a new tab and load Games.myappline.com/wim/lp/lp51/index_15.php?id=2, website that promotes a game-related website which seems to be legitimate.
As mentioned in the introduction, Music Center Search might enter your PC secretly because we have received reports that it is promoted on torrent and other websites that can redirect you to its main website. However, when visiting Playmediacenter.com, we did not see a download of this application, but the website features four similar applications. In any case, the download links of those programs redirect you to the Chrome Web Store. And, even though, Music Center Search is not promoted on the main website, you can get it from the Chrome Web store as well. According to the store's stats, this program has more than 67,000 users and we predict that this number is set to increase.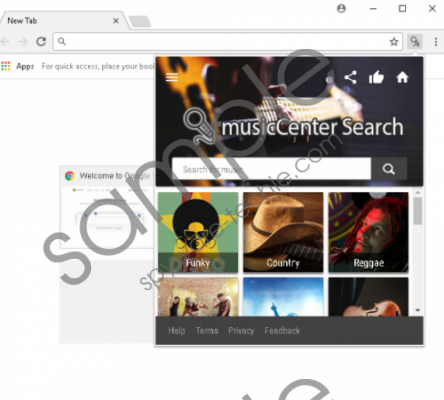 Music Center Search screenshot
Scroll down for full removal instructions
If you download Music Center Search from the Chrome Web Store, then it will add its icon to the top-right of the browser. If you click that icon, then a drop-down window will appear allowing you to select several wide music genres. If you click one of the genre icons, then you will be redirected to Gomusix.com/popular-genres which seems to be a legitimate website as well. As you can see, there is nothing malicious about Music Center Search and its promoted content, you can get it accidentally from redirections from torrent and other download websites.
In conclusion, Music Center Search is not a malicious program but it is still potentially unwanted because it can get onto your computer without your knowledge or authorization. Therefore, we recommend that you delete it from your browser by going to its extension list and clicking the Remove button. See the guide below if you are not familiar with how to uninstall an extension from Chrome.
Removal Guide
Open Google Chrome.
Press Alt+F.
Click More Tools.
Click Extensions.
Find Music Center Search.
Click Remove.
In non-techie terms:
Music Center Search is a browser extension for Google Chrome that allows you to access free music easily. However, the problem with this extension is that it can get onto your PC though redirects from torrent and other download websites. If this happened to you, then you should consider removing this application if you do not intend to you use it. Read the article above if you have not already for more details on this extension.