Do you know what Multitimer is?
It is possible that you find Multitimer on your system and have no clue how this questionable application may have entered your computer. Of course, you may have installed this tool knowingly and officially, but our researchers believe it is quite unlikely. This app has been labeled as a potentially unwanted program, or PUP. As a matter of fact, our researchers say that this PUP does not show any signs of bad intention. Still, it can be found spreading in freeware bundles, which, unfortunately, means that it can come on board alongside malicious software installers. Now, those can actually harm your system and expose you to unreliable third-party content, which could lead to further infections or worse. For this reason, we believe that it is best to remove Multitimer and all other threats to secure your PC. Please read on to find out more about the potential risks regarding this PUP.
This useless PUP has its own promotional page at multitimer.fun. There is little chance that you actually visited this website; therefore, it is quite questionable how you installed it because we have not found any other reputable or reliable websites promoting it. If you search the web for a timer or alarm tool, you may find thousands of them, which would make it almost impossible for you to end up on this webpage; even if you were to search for "multitimer" as keywords. So, this leaves you with other alternative choices to install this PUP, and those will surely convince you to delete Multitimer from your computer.
Our researchers have found that this PUP can be simply dropped onto your system when you click on questionable third-party contents, such as banner or pop-up ads, fake buttons, and corrupt links. This means that you could be presented with a fake updater or downloader pop-up on a suspicious website like a video streaming site. This pop-up would make you believe that you need to install a certain plugin or update in order to see content on the site. However, once you click "Install" or "Yes," you would simply install this PUP in the background. Or, worse, you may drop a bundle of threats.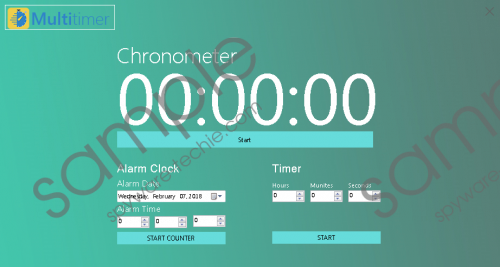 Multitimer screenshot
Scroll down for full removal instructions
The latter can also happen when you download free software from shady file-sharing sites or when you click on corrupt third-party ads on suspicious pages. A bundle may carry several threats, including PUPs, browser hijackers, ad-supported programs, fake alerts, Trojans, and more. You always need to be vigilant when you are installing such a software package because you need to be aware of the whole content. It is important to read the license agreement carefully and to choose the custom installation option if offered. By being cautious you may be able to spot the browser setting change notifications and other default installations. Since it is quite likely that you have installed such a bundle recently, we advise you to delete Multitimer and run a reliable online malware scanner to detect all risky programs on your system.
There is not much to talk about this PUP since it is simply a time counter and alarm. Strangely, its window cannot be moved, i.e., it seem static. Another annoying thing about it is that you cannot disable autorun, which means that it starts up automatically every time you reboot your system. Our researchers have not found any malicious activities this PUP may be doing behind your back. Still, we believe that this tool is totally unnecessary since you can find much better ones that you can really trust. We advise you to remove Multitimer, but mainly because it may spread with malicious infections and thus may bring serious system security issues to your PC.
The good news is that this PUP can uninstalled simply by using its uninstaller via Control Panel. But, if you are more like a manual user, you can use our guide below this report to eliminate this potential threat from your computer. As you already know, there could be plenty of other threats hiding on your system, which mean real cyber security issues. If you leave any of these on board, you are risking your privacy, the health of your system and your files as well. This is why we think that it is important that you clean your whole PC before you go online again. If you cannot handle this manually, you can always install a trustworthy anti-malware application like SpyHunter.
Remove Multitimer from Windows
Tap Win+R and enter regedit. Press OK.
Locate and remove the following value names:
HKEY_LOCAL_MACHINE\SOFTWARE\Wow6432Node\Microsoft\Windows\CurrentVersion\Uninstall\Multitimer_is1
HKEY_LOCAL_MACHINE\SOFTWARE\Wow6432Node\Microsoft\Windows\CurrentVersion\Run | Multitimer | "C:\Program Files (x86)\Multitimer\Multitimer.exe"
Close the Registry Editor.
Tap Win+E.
Delete the following folders:
%PROGRAMFILES(x86)%\Multitimer
%PROGRAMFILES%\Multitimer
Empty the Recycle Bin and reboot your system.
In non-techie terms:
Multitimer is a very basic tool that can run a time counter and you can also use it as an alarm; however, our researchers have found that this potentially unwanted program can be distributed in questionable ways. This means that the software itself may not be harmful or malicious directly, but it can enter your system without your knowledge and along with malicious programs. Clearly, this could mean multiple system security threats. And, this is why we suggest that you take action and remove Multitimer from your computer as well as all other real threats. If you do not seem to be able to protect your computer effectively, we advise you to install a reliable anti-malware program.